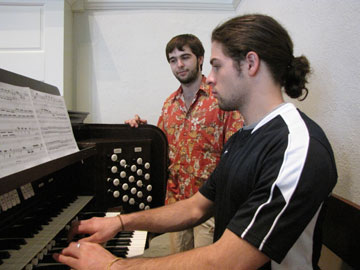 Wabash College Music Department will present a Student Organ Recital at 12:15 p.m., Monday, April 27 in the College Chapel.
The Bach's Lunch Student Organ Recital will feature juniors, Forrest Craig and Scott Pond, and freshman, Zachary Rohrbach. Performing music by J. S. Bach, William Boyce, an arrangement of a traditional American tune, and a composition by Scott Pond, they will be presenting the first student organ recital in at least 15 years. The organists are students of Cheryl Everett, adjunct instructor of piano and organ.
The program consists of Craig performing Bach's Prelude and Fugue in A Minor and a traditional American tune, Nettleton; Rohrbach performing Bach's Prelude and Fugue in F Major; and Pond performing Katholishches Gesangbuch (Catholic Songbook) Grosser Gott, Wir Loben Dich, Boyce's Largo and Fugue from Voluntary in A minor; a composition, Opus 1, by Pond, and Bach's Prelude in C minor.
The public is invited to attend this free concert. Please bring your lunch and enjoy an afternoon of beautiful music.
Photo: Forrest Craig at the organ with Scott Pond looking on.