In small moments and big ones, intentional and unintentional, the future of more than 300 high school seniors will be shaped during Honor Scholarship Weekend.
Young men from California to Mississippi to Indiana are on campus taking important tests that will determine scholarships but also trying to determine if Wabash College is the right place for their education. See a photo album from morning activities here.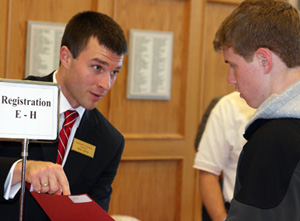 The 116th program features more than college-level exams; it's an opportunity for prospective students to explore independent and fraternity living along with campus clubs and organizations. It also is a chance for parents to see the college their sons are considering. Special parent panels met in the morning to answer question with sessions on immersion learning, student-faculty research, and career services in the afternoon. See photos from parent activities here.
"I'm here to try to earn some money to come to Wabash so that I can further my career in football, get to know the school, and become part of the brotherhood they have here at Wabash," said Kyle Young, a senior at Sunrise Mountain High School in Peoria, Arizona.
Like many of the high school seniors, Young was on his second visit to campus after attended the 10 Top Ten Scholarship Weekend in January, as well. He plays football, baseball, and is a National Honor Society member in high school.
For Wabash admission counselors, it's their biggest weekend of the year. Nearly 400 young men registered for the program with well over 300 on hand by noon time. More than 1,500 students applied for Wabash admission this year. The Class of 2013 will be approximately 250.
"I want the guys to spend time with our own students in the dorms and in the houses," Senior Associate Director of Admissions Walter Blake said. "I want them to see how our students interact and that's probably the most important thing they can do this weekend."
The group is as diverse as the states they represent — like the young man from Chicago interested in international politics to the football recruit from California. Then there is the Boonville teen that has been to campus many times, but can't quite make a decision from his final five school choices.
The young men were welcomed to Wabash officially at 11:30 by Dean of Admissions and Financial Aid Steve Klein and President Patrick White. Dr. White urged the students to think of themselves as heroes — since family, friends, and younger students back home look up to them for their accomplishments.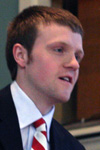 "Wabash is a place where you can work to find the greatness in you," he told a packed Chapel.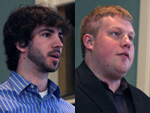 Student body president Mark Thomas spoke briefly and talked about what he has learned from Wabash alumni and the College's strong connection to its graduates. President of the Independent Men's Association Jon Hogge and IFC President Brent Graham talked about the living choices available to the new students.
Graham said there was one message whether they lived in a fraternity or in independent housing that each young man should understand: "Students at Wabash consider themselves first and foremost, Wabash men."
In photos: Top left: Admissions officer Will Arvin welcomes a young man to Wabash College. At lower left, Mark Thomas address students and parents. Lower left, Hogge and Graham.