The Wabash College Glee Club will be traveling again over spring break and kicking off its tour with an Indianapolis concert with Morehouse College. After the Indianapolis kickoff, the Club will tour Pennsylvania.
For the second time in three years and just the third time since 1977, voices from the two all-male colleges will unite at 7 p.m. at the United Methodist Church, 3808 N. Meridian St. The concert is free and open to the public.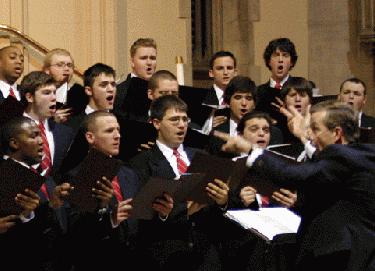 "This Saturday's program marks our second collaboration with Morehouse: the first was three years ago, also at North United Methodist Church – and was a resounding success," Director Richard Bowen said. "The Morehouse Glee Club has a long and distinguished musical heritage, dating back to 1911. Their first director, incidentally, was born and raised in Muncie, Indiana. Saturday's program will feature each club performing separately and will conclude with several combined numbers. We look forward to this opportunity to sing once again with the Morehouse Glee Club, under the direction of Dr. David Morrow."
After the Indianapolis concert, the Glee Club will head to Pennsylvania for concerts across the Keystone State.  The students will sing in Pittsburgh, Philadelphia and several other cities. (See the full schedule below.)
"While the primary purpose of our tour is to perform our music, we will also take advantage of the historical and cultural offerings of Philadelphia," Bowen said. "So, we will visit the "old city" area, including Independence Hall, the Liberty Bell Center, and the National Constitution Center. We will tour the Kimmel Center for the Performing Arts, home to eight performing arts organizations, including the famed Philadelphia Orchestra, the Opera Company of Philadelphia, and the Pennsylvania Ballet. We will also visit the Philadelphia Art Museum, one of the largest art Museums in the United States."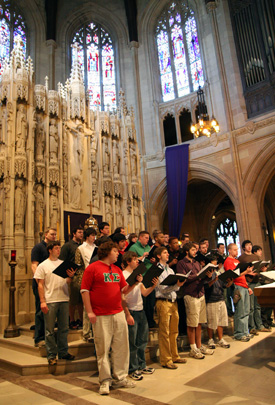 The first full day in Philadelphia features a performance with the Orpheus Club in a Celebration of Song at its downtown clubhouse. The Club was founded in 1872, making it one of the oldest Male choruses in the country.
"Our host for this event is Frederick Wampler '57, Glee Club alum," Bowen said. "Fred is an active member of the Orpheus Club and has just completed a term as the Club's President. He has worked tirelessly on our behalf for this tour, setting up concerts and making arrangements for our cultural activities. He will also host the Glee Club for a reception at his home during our stay. We are very appreciative of his efforts."
Interaction with alums and seeing the great historical sites are just a couple of the benefits of the tours. Bowen cites the opportunity to spend a week together, work on music and help spread the fame of Wabash College.
Saturday, 7 March
7:00 PM joint concert with the Morehouse College Glee Club
North United Methodist Church
3808 N Meridian Street
Indianapolis  IN  46208
free and open to the public
Sunday, 8 March
4:00 PM concert
St. Paul's United Methodist Church
1975 Ferguson Road
Allison Park (Pittsburgh)  PA  15101
free and open to the public
Monday, 9 March
8:30 PM joint concert with the Orpheus Club
245 S Van Pelt Street
Philadelphia  PA  19103
by invitation only
Tuesday, 10 March
7:30 PM concert
St. Peter's Episcopal Church
121 Church Street
Phoenixville  PA  19460
free and open to the public
Wednesday, 11 March
7:15 PM concert
Rosemont Presbyterian Village
404 Cheswick Place
Rosemont  PA  19010
free and open to the public (limited seating, with preference to residents)
Thursday, 12 March
7:30 PM concert
Freedom Village
15 Freedom Boulevard
West Brandywine  PA  19320
free and open to the public