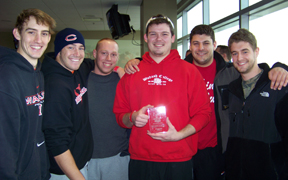 Six members of the Wabash chapter of Beta Theta Pi braved very cold weather last weekend to participate in the Polar Plunge to benefit Special Olympics of Indiana.
The Polar Plunge is a national effort by the Special Olympics to raise funds and awareness of Special Olympians and their accomplishments. The Wabash Betas took part in the Polar Plunge in West Lafayette hosted by Purdue University and held in the parking lot of Ross-Ade Stadium.
Since the Ross-Ade lot doesn't have an iced over lake, the West Lafayette Fire Department filled a large pool with icy-cold water.
Six Betas — Steve Ega, Brent Banach, Mike Wartman, Justin Froedge, Bobby Ritz, and Andrew Rode — took the plunge on behalf of the Special Olympics.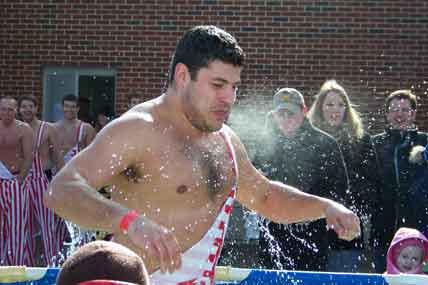 And not only that, but the Wabash Betas won first prize for raising the most money among fraternities and sororities — $450!
"Half of the money we raised went to the Special Olympics of Indiana and the other half to the Special Olympics of Montgomery County," said Egan, who helped organize the effort.
Egan also said he thought the water was about 50 degrees when the guys took the plunge, but it certainly did nothing to cool the warm hearts of these Wabash men.
Pictured above: The six Betas who took the "Polar Plunge" Bottom right: Mike Wartman takes the plunge.