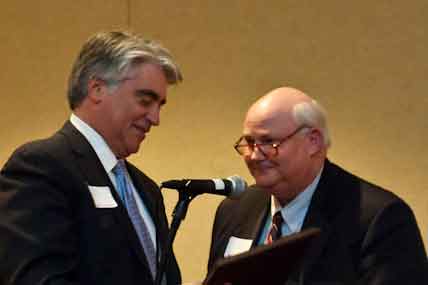 The Indianapolis Association of Wabash Men (IAWM) honored Mark D. Miles, Class of 1976, as their Man of the Year Saturday night at the Indianapolis downtown Marriott.
Mark has been a moving force in Indiana since he graduated from Wabash.  From working on and leading several high profile political campaigns to serving as the leader for Eli Lilly's public affairs, Miles was a force for positive change in the state.  As the President of the group responsible for bringing the 1987 Pan American Games to Indianapolis, Mark oversaw the most successful Games in history.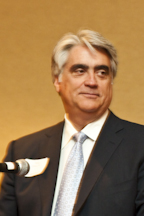 Mark went on to serve as President of the Association of Tennis Professionals (ATP). During his 15 years, he increased yearly revenues to over $2 billion, established a highly successful retirement fund for tennis professionals, and generally took the organization to the very top in professional sports.
Currently, Mark serves as the President and CEO of the Central Indiana Corporate Partnership, described as a powerhouse for economic development, especially in high tech, state of the art industries.
Dave Shane '70, shown in the photo at top (r) presenting the IAWM award to Miles, was simply perfect in his introduction of Miles and presentation of the IAWM award.
Many thanks to Jim Kerr '92, president of the IAWM and the evening's emcee, and to Scott Quick '88 and his "cupid committee" (the planner's of the evening) for their work to put together an interesting evening for all.