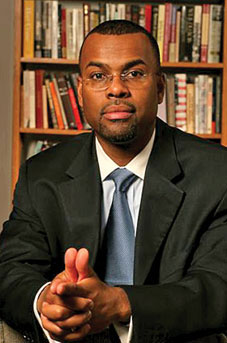 The Malcolm X Institute of Black Studies at Wabash College will host Eddie Glaude, Jr. who will give a talk at 7 p.m., Thursday, February 19, in Korb Classroom in the Fine Arts Center.
Glaude is the William S. Tod Professor of Religion and African American Studies at Princeton University. He is also a senior fellow at The Jamestown Project.
According to Michael Dyson of The Chicago Sun-Times, "Glaude is one of the most gifted young scholars in black religion today. He is a charismatic thinker and insightful writer who is breaking new ground by imaginatively treating primary sources in his scholarly ventures. Glaude's star will only get brighter … "
Glaude is the author of In a Shade of Blue: Pragmatism and the Politics of Black America, and Exodus! Religion, Race, and Nation in Early 19th Century Black America, recipient of the Modern Language Association's William Sanders Scarborough Book Prize for outstanding scholarly study of black cultural life and/or literature.
Glaude is also editor of Is it Nation Time? Contemporary Essays on Black Power and Black Nationalism. The edited collection has been described as "a standard reference for students and scholars of African American intellectual history." He has also co-edited, with Cornel West, African American Religious Thought: An Anthology. This text is widely viewed as one of the most important books published in African American religion in the last five years.
The Malcolm X Institute of Black Studies Lecture Series celebrates the life, wisdom, and accomplishments of Malcolm X, an embodiment of the principles of knowledge, humility, brotherhood, and wisdom, upon which our Institute was founded. The past lecturers include Dr. Peter Fredericks, Professor Emeritus in History at Wabash College and Jill Nelson, journalist and author of Straight, No Chaser: A Black Woman's Guide to Survival.
Glaude's talk is free and open to the public.