John Jefferson '97 dives first and learns to swim later. With that philosophy he has traveled all over the world, joined the military, and developed a love of languages.
The history major and English literature and French minor graduated magna cum laude. While at Wabash, he was a member of Lambda Chi Alpha and was Editor-in-Chief of The Bachelor.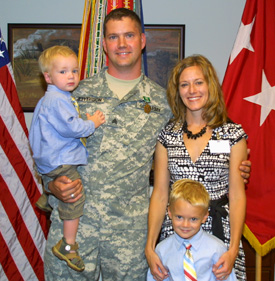 Jefferson took French in high school and again at Wabash but it wasn't until he began studying Latin that he really developed "a fondness for foreign languages," he said. "The Latin language itself was such a challenge, perhaps the most difficult, yet it revealed to me so much about Latin, Rome, and the West after Rome, and it opened my mind to much about my own native tongue."
Fluent in Polish, German, Arabic, Turkish, French, Latin, and English, the polyglot does believe he has an "above-average aptitude for languages" but he feels the acquisition of a new language is more a matter of devotion than talent.
"Learning a new language grants access to another culture and civilization not available to the monolingual," Jefferson said. "It sharpens your understanding of your own cultural context, and of your own language.
"We can never fully understand the rest of the world's inhabitants without understanding the languages they speak, and sadly America is left out of much of the global conversation simply because it does not understand what is being said."
As a lover of languages, Jefferson has sought out opportunities where he can utilize his skills and join the global conversation.
He set off on his first adventure outside the United States after graduation and taught English at a pedagogical community college in Ciechanow, Poland. At the same time he taught himself the Polish language.
After receiving a grant from the Kosciuszko Foundation in New York, he returned to Poland with his wife to get his master's degree at the Jagiellonian University in Krakow. When the couple returned to the U.S. after he completed his degree, Alison was expecting their first child. Since he had been studying in Poland, the couple had no insurance and no money to pay for the birth.
"Since state jobs [in Indiana] offered insurance coverage in just three weeks, I looked for a job there," Jefferson said. "The best state job I could find that was hiring immediately was that of correctional officer. So I worked at Plainfield Correctional Facility from August through January.
"I remember sneaking a Latin edition of Erasmus of Rotterdam's Moriae Encomium (The Praise of Folly) when I was on tower duty there, with one eye on the text, one on the prison fence, and a third on the lookout for my supervisor."
He shifted to another government position when he enlisted in the army as a Linguist. "I saw the army as a way to meet a number of personal goals at no cost to my family, among them: the GI Bill to pay for a Ph.D., 63 weeks in Monterey, California learning Arabic, a top-secret clearance, and experience in the intelligence field.
"I remember being on the rifle range [at basic training in South Carolina] when they announced over the loudspeaker that our forces had crossed the burm separating Kuwait from Iraq, signaling the start of the ground war in Iraq. Our training seemed suddenly more relevant."
Jefferson was named the Department of the Army's Linguist of the Year in 2007 for his proficiency in several languages, and his overall military record. He traveled to the Pentagon for a week with his family to receive the award.
During that week he "spent an entire morning with the Deputy Chief of Staff General John Kimmons," Jefferson said. "I even had some one-on-one time with the Sergeant Major of the Army, who is the highest ranking non-commissioned officer in the military. So it was quite an honor."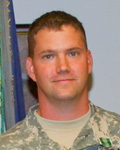 As part of the award, Jefferson also received a $10,000 grant for the language immersion program of his choosing. As a result, he spent eight weeks in Istanbul with a Turkish family where he had four hours of private one-on-one lessons in Turkish five days a week.
Now a Staff Sergeant, Jefferson is currently participating in a similar program in Cairo.
He calls his work "grueling" but very rewarding. "There are a number of days where I can come home, sit on the couch, and say that I made a difference, even helped save the lives of a number of Americans and/or local nationals. It is a great feeling.
"That sense of fulfillment is one of the reasons why I joined [the army]," Jefferson said. "I decided if I worked outside of academia, it would have to be for some institution with a higher purpose. Given the choice, I would rather spend my time in an occupation that required sacrifice for something greater."
In addition, the army has given Jefferson the opportunity to work on his Ph.D. in history at Mainz University in Germany. In the coming year he will take advantage of a second semester off to complete his degree. "It's another example of how the military, though demanding, can also provide unique opportunities."
While his language skills have taken him many places in the army, he encourages students of all career paths to learn additional languages. "There are limitless opportunities in both the public and private sectors," Jefferson said. "No employer will ever say, 'Well we would have hired him if he didn't speak Russian.' But the opposite is certainly true."