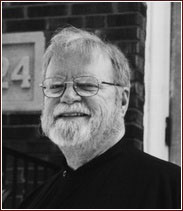 Wabash College will host Father Patrick Reardon who will lecture on "Historical Identity and Cultural Amnesia: The Orthodox Church and Contemporary Culture." His talk will take place at 8 p.m., Thursday, January 22, in Lovell Lecture Room (101) in Baxter Hall.
Father Reardon is pastor of All Saints' Orthodox Church in Chicago, IL, and a senior editor of Touchstone magazine. Father Patrick was educated at Southern Baptist Theological Seminary (Louisville, KY), St. Anselm's College (Rome), The Pontifical Biblical Institute (Rome), and St. Tikhon's Orthodox Seminary (South Canaan, PA). He has authored many books including: Christ in the Psalms, Christ in His Saints, The Trial of Job: Orthodox Christian Reflections on the Book of Job, Chronicles of History and Worship: Orthodox Christian Reflections on the Books of Chronicles, and Creation and the Patriarchal Histories: Orthodox Reflections on the Book of Genesis. In addition, Father Patrick has published over a thousand articles, editorials, and reviews, in "Books and Culture," "Touchstone," "The Scottish Journal of Theology," "The Catholic Biblical Quarterly," "Pro Ecclesia," "St. Vladimir's Theological Quarterly," and other journals on three continents over the past 40-plus years.
His talk is free and open to the public.