Entrepreneurial Spirit: Stephen Miller '64
• April 10, 2008

Share:
WM asked 18 Wabash entrepreneurs:
What's the most important thing you know about being an entrepreneur?
What should Wabash be doing to instill this "entrepreneurial spirit?"
A Curiosity About the World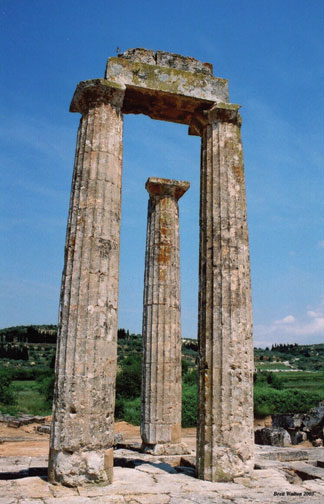 Most archaeologists can only dream of the discoveries and achievements Professor Stephen Miller accomplished after more than 30 years excavating and studying the ruins of Ancient Nemea, one of four sites of the Panhellenic Games, the first systematic cessation of war in the recorded history of mankind.
But in the Greek village that named him an honorary citizen, Miller may be best known for reawakening a
people to their heritage, and, in the process, improving their lives both economically and educationally.
When Miller first arrived, Nemea was controlled by two wealthy families that the professor unwittingly angered by hiring poor people in the village and training them to work with him. One night in the fall of 1980, Miller was shot at, possibly under orders from one of the ruling families. But by then, Miller was considered such a positive influence in the community that police warned the families they would be suspects if anything happened to him. Miller has since watched the many residents of Nemea who work for him improve their lives. And by reviving the Ancient Nemean Games in 1996, 2000, and 2004, he has been the catalyst for a surge of pride and economic improvement.
"I never had a goal of being a social reformer," Miller says. But in obtaining funding for his work, improving the quality of life in the village of Nemea, and in envisioning and bringing about the revival of the Nemean Games, Miller has been the definition of a social entrepreneur—one who opens up new possibilities in areas of human need.
What is the most important thing you know about being an entrepreneur?
Hard-headed, soft-hearted determination and persistence are the characteristics that come to mind.
Perhaps more important is the belief that anything is possible with hard work and help from the right people at the right time and place. A few aphorisms have always been in the back of my mind: "When in doubt, don't." "Early self-criticism trumps criticism from others." "I don't know everything, but I can learn—especially from those who know the things I don't." And most of all, the golden rule: "Treat the other guy in the way you would want to be treated."
What should Wabash be doing to instill this entrepreneurial spirit in our students?
Everything I have been able to accomplish has been based on relations with other people: Wabash opened my mind to a very broad swath of our world. When I left Wabash, I was not qualified to be a physicist or a theologian or a mathematician; but I had enough knowledge so that I was not afraid to talk with specialists in those and other fields, and I had some sense of how to express my questions
and ask for their help.
At the same time, Wabash exacerbated my curiosity about the world around me, and it gave me confidence in my ability to satisfy that curiosity.
Even as my horizons widened, my specific field of work was found at Wabash when, in my freshman year, I had the opportunity to sit at the feet of Stephen Runciman, and in my sophomore year, when George Mylonas spent two days on campus. Professor Mylonas described his excavations at Mycenae, and I felt an immediate tug toward a profession that would allow me to indulge my curiosity, a profession with physical labor and intellectual investigation combining in my playing with the jigsaw puzzle of our past.
I have a feeling that my "entrepreneurial spirit" came, in part, from my experience at Wabash, not because Wabash was trying to instill it in me, but because Wabash gave me the opportunity and the tools to engage in my life's work.