Entrepreneurial Spirit: Mead Killion '61
• April 9, 2008

Share:
WM asked 18 Wabash entrepreneurs:
What's the most important thing you know about being an entrepreneur?
What should Wabash be doing to instill this "entrepreneurial spirit?"
True To The Ear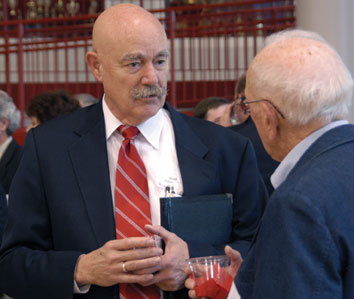 Before founding Etymotic Research in 1983, scientist, inventor, and entrepreneur Mead Killion worked for more than 20 years for a major electronic component manufacturer, where he designed hearing aid microphones that were so accurate they were also used in recording and broadcast studios.
"Etymotic means 'true to the ear,'" says Killion, whose company holds more than 89 patents. "Etymotic Research is an engineering- driven company, and its mission, to develop products for the ear, has not changed in more than 20 years. We are committed to improving the lives of those with hearing loss and to enhance the listening experience of musicians and music lovers."
Among Killion's hearing and hearing protection innovations: Etymotic was the first company to offer high-fidelity earphones, and its "Companion MicsTM" system allows those with severe hearing loss to communicate with their
companions when they are in noisy places.
The company's ER-6i isolator earphone for Apple iPods was iLounge's "Best Headphone of 2005."
What is the most important thing you know about being an entrepreneur?
An entrepreneur has the freedom to choose which projects to work on, even without market studies to back up the decision. This has resulted in some breakthroughs: Polaroid ("no one wants an instant picture") and insert earphones for audiometry and music ("no one wants to stick anything in their ears") among them.
It also carries the higher risk, because the choice is often between designing something you think people need and designing something they already want.