Entrepreneurial Spirit: John Wheeler '70
• April 9, 2008

Share:
WM asked 18 Wabash entrepreneurs:
What's the most important thing you know about being an entrepreneur?
What should Wabash be doing to instill this "entrepreneurial spirit?"
Learning How To Live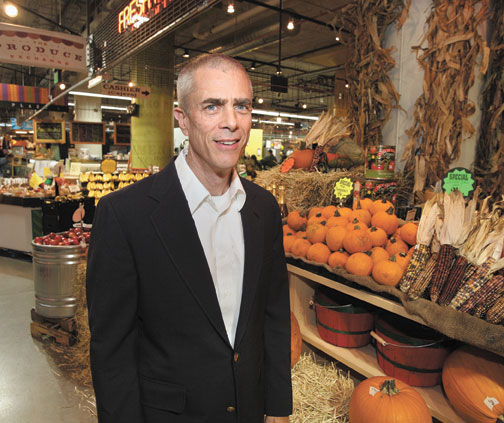 John Wheeler spent 23 years in the shopping center industry before recently joining the St. Paul-based
nonprofit Neighborhood Development Center as its Director of Incubators. His daunting initial assignment: finding the recipe for realizing the potential of the Midtown Global Market, the innovative but struggling international
indoor market inside a former Sears complex in south Minneapolis.
Wheeler says he took his new job because he thinks the work is important.
"I guess you could say that feeling good about what you do is a huge motivator for me, he says. "It's a good organization doing good work, and I'm happy to be part of it."
What is the most important thing you know about being an entrepreneur?
I deal with entrepreneurs every day, both in the conventional sense of people who start and own businesses, and also in the broader, more significant sense of people who conceive and bring to life new ways of doing things.
What seems essential to being an entrepreneur in this broader sense is a mixture of caring, understanding, and acting. In ordinary, day-to-day life, most of us don't combine all three of those elements. We experience the world but don't care enough to question how things might be better. We care but don't search for solutions. We think but don't act. Or we act without really understanding.
What prevents us from being entrepreneurs (in this broader sense) is that we go through our lives assuming that we understand without taking time to pay attention and see what's really going on. Usually we're more interested in maintaining our comfort zone of beliefs and habits than we are in exploring what the reality actually is. Sometimes—perhaps always—the hardest thing to learn is how to listen honestly to what we're experiencing about the world and about ourselves.
To combine caring, understanding, and acting involves noticing and caring about the problems, opportunities, and wasted potential that one sees; trying to understand the causes of problems and the causes of potential solutions; applying one's mind to the challenge of learning how to remove the causes of problems and to activate the causes of solutions; believing that it's possible to do something meaningful; and committing ourselves to do what we can.
To be entrepreneurs within our lives—and with our lives—we have to learn what life is really for and how to live. Learning this takes two things: being honest with ourselves, and paying attention to life.
I've been incredibly fortunate to have had these principles pounded into my head many times—before, during, and after my time at Wabash. Fortunately, I've been unable to ignore enough of those lessons that I actually have begun to grasp their meaning. Unfortunately, I've been very slow learner, so it has taken me an awful long time to begin to understand what life is for, how to live.