Wabash alumnus Pete Metzelaars '82 will finally get his ring.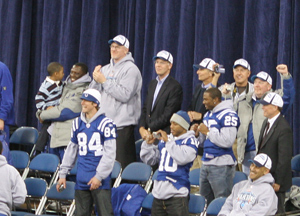 After playing in four Super Bowls as a tight end with the Buffalo Bills, each time coming up short, Metzelaars celebrated with 54,000 Indianapolis Colts fans Monday after the team captured Super Bowl XLI in Miami. Metzelaars is an offensive assistant coach on Tony Dungy's staff after a record-setting 16-year NFL playing career.
Click here to see more photos from Monday's Colts Super Bowl Celebration.
Metzelaars is no stranger to success. He was the Division III National Player of the Year in 1982 when he guided the Wabash basketball team to a 24-4 record and the national championship. He was also a four-year letterman and All-American as a tight end on Wabash's football teams that combined to go 32-3-1 during his career.
Drafted in the third round by the Seattle Seahawks, Metzelaars started a pair of playoff games during his career in the Pacific Northwest. He was later traded to Buffalo where he became a starter. In his second year with Buffalo, Metzelaars caught 49 passes for 485 yards and three touchdowns and was the only player on the team to catch a pass in every game.
In 1988, he was named an alternate for the NFL Pro Bowl after catching 33 passes for 438 yards. He was also a Pro Bowl alternate in 1993 — a year in which he caught 68 passes for 608 yards and four touchdowns. A year later he caught 49 passes for 428 yards and five scores.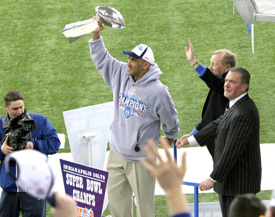 Metzelaars played on four AFC Championship teams while with the Bills, and from 1992 through 1994 caught 147 passes for 1,335 yards and 15 touchdowns. He caught a touchdown pass in Super Bowl XXVI, and caught the very first pass thrown in the NFL by quarterback Jim Kelly.
Metezelaars set an all-time NFL record in 1996 when he played in his 212th career game, the most ever by a tight end. He played in 169 straight games from 1984 through 1995, and set Buffalo's all-time record for catches by a tight end with 302.
Metzelaars was later signed by Bill Polian when he was building the Carolina Panthers franchise. He caught the first touchdown pass in Panthers' franchise history, and finished the year with 20 receptions for 171 yards and three scores.
He finished his career by playing the 1996 and 1997 seasons with the Detroit Lions, helping block for Barry Sanders during the season in which he rushed for more than 2,000 yards.
Little Giant Coach Chris Creighton writes in his blog about the Colts win and congratulates Metzelaars.
Tim Padgett '84, Miami and Latin America Bureau Chief for Time Magazine, writes about the Colts' Super Bowl win on a Time Magazine.
In photos: Upper right, Mezelaars, at left in gray hooded sweatshirt, applauds as members of the Colts file onto the stage. Lower left, Tony Dungy holds the Vince Lombardi Trophy for all the fans to see.