If you live in Indiana, you may not agree with Sports Illustrated and its choice of New England Patriot quarterback Tom Brady as Sportsman of the Year (a certain record-setting quarterback in the Indianapolis area comes to mind quickly as an alternate choice). But no one can argue with the magazine's choice for some of the best rivalry pranks ever pulled.
On Page 36 of the the December 12, 2005 edition, the magazine lists five of its favorite rivalry pranks. Included in the list is what is arguably the greatest Monon Bell heist in the history of the rivalry. "Operation Frijoles" is still the favorite story shared by Wabash fans regarding the "reappropriation" of the 350-pound trophy claimed each November by either Wabash College or DePauw University in the annual football meeting.
Prior to the 1965 meeting between the two teams, Wabash student Jim Shanks '67 scheduled a meeting with DePauw University President William H. Kerstetter, claiming to be representative from the US Information Service in Mexico City. During the meeting with Kerstetter, Shanks was able to convince the president to offer two full scholarships for Mexican students. To "seal the deal" Shanks asked to take photos of various points of interest on campus to show the "prospective" Mexican students more about DePauw University.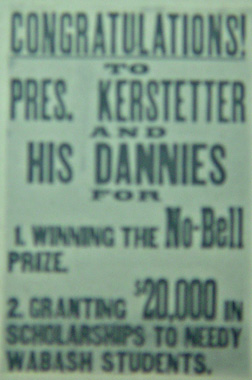 One item Shanks asked to photograph was the Monon Bell, in the Tigers' possession after a 22-21 victory in 1964. The dean of the college was the only person on campus who knew the location of the Bell, but was reluctant to tell Shanks of its location. "I don't know whether I should show this to you or not," he said with laugh. "The last time I showed it to someone, they stole it."
Taking Shanks to the second floor of a quonset hut near the football field, Shanks took careful notes that were provided to a group of Wabash students who entered the building and took the Bell back to Crawfordsville. The Bell was eventually "found" by the Wabash administration and returned to DePauw the day before the 1965 game.
Saturday afternoon the Little Giant football team made certain it was a short visit. Wabash defeated DePauw 16-6. At the conclusion of the game Wabash fans stormed the field, many wearing sombreros and ponchos, throwing taco shells onto the field and wielding posters congratulating President Kerstetter for the loss of the Bell and the two scholarship offers.
The Bell currently resides in its rightful spot near the entrance of the Allen Center. The Little Giants reclaimed the Bell Nov. 12 with a 17-14 win and to cap a perfect season.
Story originally told in the 1966 WABASH.
For more information see: