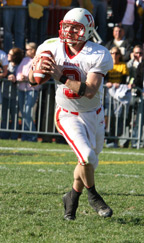 If the Albion College football team's statistics package didn't have the win-loss record of the Britons, you'd probably think the team would be 10-0 coming to Wabash for Saturday's NCAA Division III playoff clash. Actually, if you looked only at the stats, you'd have to wonder whether you were looking at Albion or Wabash stats.
Both teams rely heavily on strong-armed, experienced senior quarterbacks to move the football. Both teams have running games by committee — two or three players, each of whom is capable of putting together a solid running game. And both teams have get-after-it defenses that will force turnovers and fight for field position.
Strength vs. strength; something has to give. Here's how the two teams match up:
The Passing Game — Wabash will look for Russ Harbaugh (photo right) to again step up under pressure. The third-year starter has rewritten Wabash's record book for pass efficiency and passing yards, and this week will look to spread the ball around to his stable of talented receivers. Harbaugh is averaging 296 yards per game and completes 70 percent of his passes for 26 touchdowns with just four interceptions. His interception vs. DePauw last week worked very much like a punt into the wind for the Little Giants; no harm, no foul.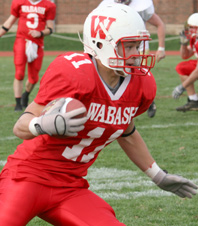 Harbaugh is at his best when he finds six, seven, or even eight receivers in a single game. And he may have the best receiving corps in all of Division III (though Albion might make a similar claim). Leading Wabash is senior receiver Eric Summers, whose 39 catches, 720 yards, and six touchdowns are all team highs. Geoff Walker has 42 catches for 652 yards and six TDs, while Mike Russell (35-533-6) and Ray Green (28-464-4) are big play threats. And don't forget Kyle Piazza (photo left), who gave Wabash its single biggest play in the Monon Bell Game when he caught a short pass and took it 37 yards for a score. Piazza is third on the team with 36 catches.
Don't adjust your dial because Albion offers a mirror image of Wabash's passing game. Steve Wasil is a third-year starter who averages 282 yards passing per game with 31 touchdowns and just 10 interceptions. Wasil does offer the added advantage of mobility, and while he won't break a game with his feet, he can get a first down when asked.
His receivers look about like Wabash's, too. Peter Shaw averages 23 yards (yes, 23 yards) per catch on his 30 receptions, nine of which have gone for TDs. Josh Silvernail averages 28 yards (yes, 28 yards) per catch on his 22 receptions, nine of which have gone for TDs. Tack on Kevin Polnasek (26-477-2) and Shane Brogan (19-293-1) and you get a solid corps.
Now, compare the tight ends: Wabash's Graham Nelson and Tim Schirack have combined for 15 catches, five of which have been touchdown grabs. Albion counters with All-MIAA tight end Troy Rundle, whose five touchdowns have come on 17 grabs.
Scary similar, huh?
Big and Beefy: The Offensive Lines — Wabash's offensive line will have something to prove this Saturday. Last week DePauw made life tough for Russ Harbaugh, sacking him five times and flushing him from the pocket a half-dozen times. The O-line did provide plenty of running room for Wabash's backs, but pass protection will be critical this week for Wabash. Wabash's line, which averages 6-2 and 278, has given up 24 sacks this year. Albion's line, which goes 6-2 and 276 pounds, has allowed only 15 sacks in 10 games, partially due to Wasil's mobility. Look for Wabash seniors Jake Koeneman and Brandon Barkley (photo right) to play a big game on Saturday.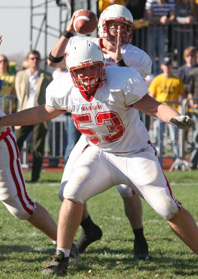 Running back by committee — You have to take your hat off to Wabash's three-headed monster of a running game; the dudes get it done. Chris Ogden (5.5 yards per carry), Brandon Roop (4.5), and Don Juan Brown (4.3) combine to average 135 yards per game, and have scored 15 touchdowns as a group. Last week they out-rushed DePauw's top backs, and provided some key first down gallops on Wabash's two touchdown-scoring drives.
Albion counters with its own multi-back threat. Kyle Klyn (4.6 yards per carry), Mike Gehringer (5.3), Craig Beck (4.3), and Mike Matway (4.0) split time in the backfield, sometimes in traditional two-back sets and sometimes in single-back attacks. That foursome has combined to average 166 yards per game and they have accounted for 11 rushing touchdowns.
So what's the best thing about the two teams' running games? Fresh legs all the time and defenses never can settle into a runner's particular rhythm.
The big dogs on defense — Wabash and Albion have different defensive styles, and perhaps Wabash has an edge here. The Little Giant ends and tackles played big at DePauw last week, holding Jeremiah Marks about 100 yards below his per-game average on the year. The linebackers were huge in that game, too, flushing quarterback Ross Wiethoff and hammering Marks on every carry. The depth of Wabash's linemen and linebackers is key, too. Lots of fresh bodies rotate through, keeping offensive lines gasping for air and quarterbacks running for their lives.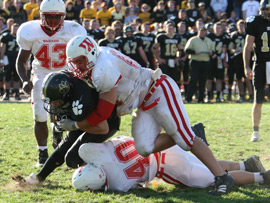 Linebackers Adrian Pynenberg (photo left, with Jared Lange), Aaron Selby, and Tim Parker all had terrific Monon Bell Games. Perhaps that's because Selby and Parker missed last year's game with injuries. The entire unit is now as healthy as it has been all year, which is critical if Wabash hopes to make a run in the playoffs. Josh Foster was a contributor in the playoffs for Wabash as a rookie, and comes in third on the team in tackles. Add in reserves Frank Knez and Justin Gardiner, and Wabash is in good shape at linebacker.
The same is true for linemen Pete Kempf, Tamarco White, Jared Lange (photo left), and T.J. Schaffer. All are healthy and coming off big games vs. DePauw.
Albion plays with a three-man front led by ends Mike Sheldon (33 tackles, 5.5 sacks) and Brett Vernon (27 tackles, 2 sacks). The strength of the defensive unit, though, is at linebacker. Senior middle linebacker Raymond Burton is an All-MIAA pick with 57.5 tackles, a sack, and an interception. Like Pynenberg, he's not all that big, but he just gets the job done. Outside backer Tim Gough is strong and fast, and he brings 52 tackles, 2.5 sacks, and an interception into the playoffs. Safeties Zak Voss and Padriac Timmons are talented run stoppers, too, with 53 and 55 tackles, respectively.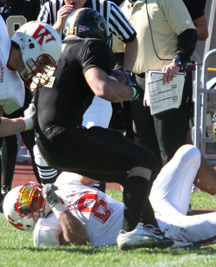 Tough job in the secondary — As good as the linebackers and linemen are on both teams, this game will likely be won in the secondary. With two of the nation's most prolific quarterbacks and two excellent receiving corps on the field, the defensive backs have the job nobody wants this week.
It's unlikely that Harbaugh or Wasil will be stopped on Saturday. If flushed from the pocket, though, each player must make good decisions with the football. Harbaugh has only been picked off four times all year; Albion has intercepted 20 passes on the season. Wasil has a lower completion percentage than Harbaugh (52 percent), but he's only thrown 10 interceptions. Wabash's defense has taken away 11 passes on the year.
Wabash is helped by its depth now that rookie Chad Peterman joins the group of starters Billy King (team-high 3 interceptions; pictured left), Charles Jackson, and Thomas Bell. Richard Roomes could also see playing time for Wabash.
Albion counters with two pretty good thieves in Chase Chandler (6 interceptions) and Tommy Lefere (four interceptions).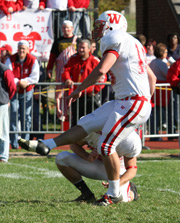 Special teams — Who knows? Aside from fighting nasty wind conditions last week, Wabash's specialists were downright special. And Geoff Walker's huge kickoff return late in the game helped seal the Tigers' fate. Chad Finley punted well on Saturday and hammered a field goal with the wind (photo right). Josh Vaughan's kickoffs were excellent.
Albion matches up about evenly with Wabash at kicker (Brian Balzerini) and punter (Tyler Hunter; 38.4 ave). This game, though, may just come down to kick and punt returns. A cold, possibly windy day makes those high-flying balls feel like rocks. Handling kickoffs and punts, and stealing a few extra yards on returns could be key.