Of the eight football teams from the North Region that qualified for the NCAA Division III playoffs, Wabash drew its most familiar foe when ESPN News announced the Little Giants would host Albion this Saturday at 12:00 p.m.
The Little Giants and Britons have met 35 times in one of Wabash's most played rivalries. In fact, the series is dead even with each team having won 17 games with one tie. The two schools played virtually every year from 1969 through 1997 when Wabash ended the rivalry after taking a 19-14 victory.
Wabash enters the playoffs with a perfect 10-0 record after Saturday's 17-14 win in the 112th Monon Bell Classic. The Britons started the season slowly, going 1-3 out of the gates, but have won the last six games to finish 7-3 overall and champions of the Michigan Intercollegiate Athletic Association. Oh, and Albion has a national championship in football under its belt!
On paper a 10-0 team vs. a 7-3 team might look like a mismatch. That's hardly the case. Albion overcame some tough early season opponents and injuries to finish strong. In winning their last six games of the year, the Britons averaged 49 points per game, hanging 73 on woeful Tri-State, but knocking off a good Alma team 66-27 two weeks ago. Albion comes into the playoffs riding a 36-19 victory over rival Olivet, which finished 7-3 overall.
When you break down the Britons, it's very much like looking into a Wabash mirror.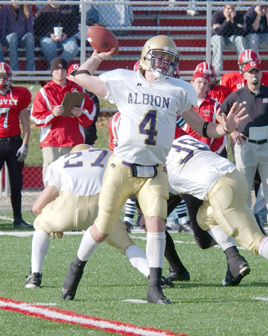 Like Wabash, Albion boasts a very talented senior quarterback in Steve Wasil (photo left), a four-year letterman and three-year starter. Wasil averages 282 yards per game and has completed 52 percent of his passes, while tossing 31 touchdowns.
But Wasil is just one piece of a very talented and potent offense that generates 457 yards per game. Like Wabash, the running game is by committee. Running backs Kyle Klyn (459 yards), Mike Gehringer (390 yards, 6 TDs), Craig Beck (377 yards, 2 TDs) and Mike Matway (3 TDs) combine to average 170 yards per game on the ground.
The similarities to Wabash are clear in the receiving corps, too. Like the Little Giants, the Britons have a stable of very fine receivers, including All-MIAA tight end Troy Rundle, who has five touchdowns among his 17 catches, and at 244 pounds is quite a load. The deep threat is split end Peter Shaw, who averages 23 yards per catch and has scored nine touchdowns. Josh Silvernail has similar ability; he averages 28 yards on his 22 catches and has scored nine times. Toss in Kevin Polnasek's 26 catches and two touchdowns, and Wabash will be facing the most prolific passing offense of the season when Albion calls on Saturday.
The offensive line isn't all that experienced, but it is huge. The left side is anchored by seniors Derek Schlaud, a 6-4, 265-pound tackle, and Steve Dehring, a 5-10, 286-pound guard. The right side features junior Kyle Robinson at 6-4 and 290 pounds, along with guard Brian Leighton, a 6-3, 301-pound sophomore. Center Andrew Popovici is the baby of the bunch; he's a 6-0, 239-pound sophomore.
Defensively, Albion gives up just 15 points per game and recorded shutouts against Hope, Wisconsin Lutheran, and Tri-State, while holding Kalamazoo to just seven points. The Britons have picked off 20 interceptions this year, recorded 74 tackles for loss, and have 29 sacks through 10 games. The team has recovered 10 fumbles, too, for a 9 turnover ratio. The defense is a classic three-man front with four linebackers. One word describes the unit: athletic.
Senior middle linebacker Raymond Burton is a handful with 57.5 tackles, a sack, and an interception. Senior safety Padriac Timmons has 55 tackles and in interception, while senior All-MIAA defensive back Zak Voss has 53 tackles and two interceptions.
Junior defensive lineman Mike Sheldon is the sackmaster with 5.5 sacks among his 33 tackles. Fellow junior Derek Tracy adds five sacks and two interceptions. Inside linebacker Tim Gough earned MIAA Player of the Week honors earlier in the season, and brings 52 tackles, 8 tackles for loss, and an interception into the playoffs.
Sophomore Tommy Lefere and junior Chase Chandler are terrific corners with four and six interceptions, respectively. Both are outstanding athletes and are physical at the line of scrimmage and fast in the open field.
Albion has long been known for having fantastic kicking special teams and this year is no exception. Kicker Brian Balzerini has booted 10-of-17 field goals with a long of 41 yards, while nailing 42-of-47 extra points. Punter Tyler Hunter isn't used all that often, but averages 38 yards when he does punt. He has a long of 64 yards and has dropped 10 punts inside the 20-yard line.
Tommy Lefere averages 18 yards per punt return, while Nick Kyriakopoulos averages 19 yards on kickoff returns.
Wasil photo courtesy of Albion College Sports Information. Photo by Albion College Biology Professor Jeff Carrier.
NUTS AND BOLTS CONCERNING THE PLAYOFFS
Tickets: No passes will be honored for this game. Ticket prices are $8 for adults and $4 for students and children. Tickets can be purchased at the Wabash College Bookstore. The Bookstore will also handle online orders, but will NOT mail them. Online ticket orders can be claimed on game day at the Will Call Window on the south side of Little Giant Stadium.
Kickoff: Set for 12:00 p.m. EST.