Wabash College students have again ranked their level of engagement higher than most of their peers across the country and higher than similar liberal arts colleges.
The 2005 National Survey of Student Engagement (NSSE) shows Wabash College as a pace-setter in five categories that have been linked to high levels of learning and development.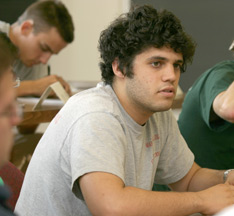 The survey seeks data to help educators and others talk about student engagement and its importance to learning. The questionnaire covers five benchmarks of effective educational practices: 1) Level of Academic Challenge; 2) Active and collaborative learning; 3) Student-faculty interactions; 4) Enriching educational experiences; 5) Supportive campus environment.
The 2005 survey was taken by 225,000 students from 518 institutions.
NSSE provided additional comparison data in the 2005 survey results showing Wabash freshmen and seniors ranking the five benchmarks substantially higher than a group of selected peers. Those selected peers were 60 liberal arts colleges across the country. The list included Allegheny, Bucknell, Denison, DePauw, Hanover, Hiram, Hope, Kenyon, Saint Olaf, Wooster, Washington, Wheaton and Wittenberg among others.
The Center for the Inquiry in the Liberal Arts was a co-sponsor of a study in 2004 that looked at the higher performing schools and what made them unique. One of the results of that study was a book, Student Success in College - Creating Conditions that Matter. The center, along with the American Society for Higher Education, and other researchers looked at 20 high performing colleges, including Wabash.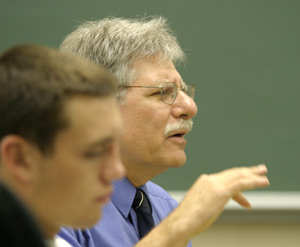 "A lot of schools have a mission statement but this group of schools had mission statements that faculty and students were aware of and they actually seemed to matter on campus," said Charlie Blaich, Director of Inquires, Center of Inquiry. "If you interviewed people across the campus you'd hear the same thing over and over. So there was a sense of purpose and focus."
The Wabash mission statement is: "Wabash College educates men to think critically, act responsibly, lead effectively, and live humanely."
Blaich said Wabash had characteristics among those 20 schools that stood out.
"The first thing is the intensity and power of the student and faculty relationship here is different. Faculty members really push the students here. There are places I've been to where students and faculty get along very well but that's not translated into pushing or challenging students.
"You can create very high student ratings by being easy on your students, but at Wabash the faculty use that relationship not just to be buddies but to push their students even harder."
Blaich said the other commonalities among the 20 institutions was an intense focus on student learning, a strong comfort level with the school's identity, and a constant desire to do things better.
Because specific data is not available for every college that participates, the Wabash scores are not necessarily higher than any of the specific peer institutions but significantly higher than the group average.
Level of Academic Challenge: Preparing for class (studying, reading, writing, rehearsing, etc., related to an academic program.)
| | | |
| --- | --- | --- |
| | First-year Students | Seniors |
| Wabash | 65.8 | 72.4 |
| Peers | 58.5 | 62.2 |
| National Average | 52.6 | 56.5 |
Active and Collaborative Learning: Asked questions in class, made class presentation, worked with other students, tutored, participated in a community-based project.
| | | |
| --- | --- | --- |
| | First-year | Seniors |
| Wabash | 53.0 | 63.0 |
| Peers | 44.6 | 53.4 |
| National Average | 42.4 | 51.4 |
Student-Faculty Interaction: Discussed grade or assignments with instructor, discussed career plans with faculty or advisor, discussed ideas from readings or classes with faculty outside of class, received prompt feedback from faculty on academic performance, worked with faculty on a research project outside of course or program requirements.
| | | |
| --- | --- | --- |
| | First-year | Seniors |
| Wabash | 51.1 | 71.1 |
| Peers | 36.8 | 52.4 |
| National Average | 34.0 | 44.1 |
Enriching Education Experience: Co-curricular activities, internship or field experience, community service or volunteer work, foreign language or study abroad, independent study, serious conversations with students of different religious beliefs, political opinions or personal values, use technology to discuss or complete an assignment.
| | | |
| --- | --- | --- |
| | First-year | Seniors |
| Wabash | 43.5 | 70.6 |
| Peers | 31.4 | 53.4 |
| National Average | 27.8 | 42.1 |
Supportive Campus Environment: Environment provides support student needs to succeed, environment provides support to thrive socially, cope with non-academic responsibilities, quality of relationship with students, faculty and administrative personnel and offices.
| | | |
| --- | --- | --- |
| | First-year | Seniors |
| Wabash | 77.3 | 72.7 |
| Peers | 65.4 | 62.1 |
| National Average | 60.1 | 57.5 |