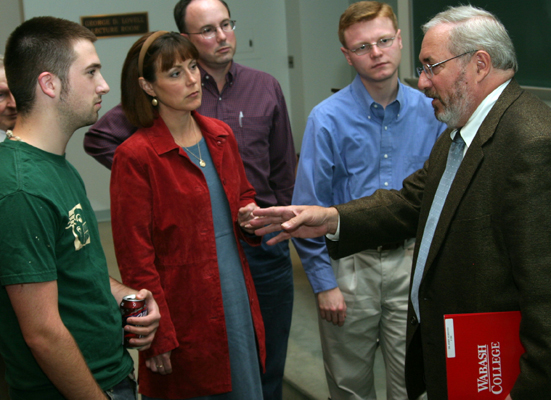 John Agresto, the former president of St. John's College, will return to Wabash College Monday and Tuesday to give a series of talks regarding the war in Iraq.
Following a year-long stint as senior research fellow at Wabash's Center of Inquiry in the Liberal Arts, Agresto was tabbed by President George W. Bush to serve as a Senior Adviser to the Iraqi Ministry of Higher Education and Scientific Research. He spent a year helping the provisional coalition begin to rebuild the higher education system in Iraq.
Agresto will give a public lecture on Monday night, October 17 entitled "Why We are Losing the War in Iraq." His talk will begin at 8:00 p.m. in Baxter Hall's Lovell Lecture Room.
On Tuesday, he'll give a pair of public presentations. The first, at 11:15 a.m. in Baxter's Lovell Lecture Room, is entitled, "How the West Tamed Christianity and How Christianity Tamed the West: An inquiry Into the Differences Between Islam and Christianity."
Then at 4:15, he'll read from his forthcoming book, Mugged by Reality: How We Won - and Soon Might Lose - The War in Iraq." The reading will be held in room 114 in Baxter Hall.
Agresto has an impressive resume, including his presidency of St. John's College Santa Fe. He also served as acting chairman of the National Endowment for the Humanities, and has held a number of posts in higher education. He spent the 2002-2004 school year as a research fellow and professor of political science at Wabash.