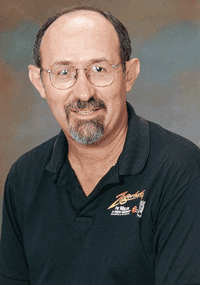 Joe Haklin, '73, a two-sport Academic All-American and member of the Wabash College Athletics Hall of Fame, has been named the first full-time athletics director in Marian College history. Haklin began his new job on October 3.
Haklin, who previously was the head basketball coach and physical education professor at Kalamazoo College, will be responsible for athletics fund raising and public relations efforts, further develop the college's wellness programs, and oversee team and individual intercollegiate sports.
"The hiring of Mr. Haklin is another step in strengthening the leadership as we continue to foster the 'whole person' education," said Marian College President Daniel J. Elsener. "Mr. Haklin's past physical education instruction and coaching experience in a variety of settings, paired with his Catholic faith, will help lead Marian's athletics programs in a way consistent with the college's mission and values."
One of Haklin's early goals will be to develop a business plan for the introduction of varsity football at Marian.
"During this new era of growth for Knights athletics, it is my goal to make Marian College even more attractive to student-athletes throughout the Indianapolis area," says Haklin.
Haklin was a four-year football letterman and three-year basketball letterman at Wabash, earning Academic All-America honors in both sports. He also earned varsity letters in baseball. He graduated Phi Beta Kappa and later earned a master's degree from Wayne State University. He is a member of the Wabash College Athletics Hall of Fame.