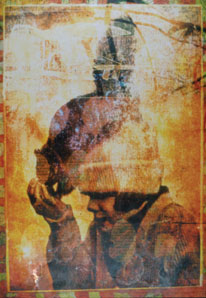 The Wabash College Art Department announces its first exhibition of the academic year, ReFresh: Print Biennial I: An Exhibition of Traditional and Digital Printmaking and Photography, in the Eric Dean Gallery in the Fine Arts Center.
This exhibition is a national print invitational organized by the University of Wisconsin-Green Bay, which showcases contemporary currents in print media. The works selected for this touring exhibition include a range of traditional approaches to printmaking and photography, as well as works that reflect artists' incorporation of digital media into their print practices. The exhibit consists of 61 works by 33 artists who examine the changing directions of the contemporary print.
The exhibition will run through Saturday, October 8, 2005. Gallery hours are Monday through Friday 9-5 p.m. and Saturday 10-2 p.m. Admission is free.

Photo: "Girl with Squirrel, Artist: Scott Frish