They're back.
Monday 106 young men reported for the start of the 2005 Wabash College football season, officially kicking off a sports season that will run through May of next year.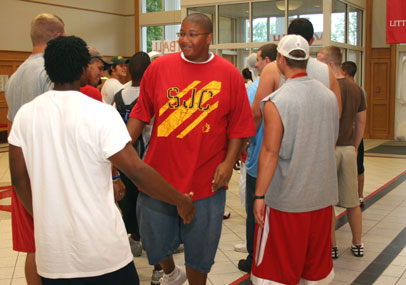 While the football players spend two days on campus before leaving Tuesday night for off-site practices at the FCA Camp in Marshall, Indiana, Wabash will still be a hub of activity. Forty-six soccer players come back to Wabash Thursday, followed by the start of cross country practice Sunday when 16 runners report.
For the Little Giants footballers, the goal is simple — look to the upperclassmen for leadership.
"We need to start off strong," said head coach Chris Creighton. "We ended 2005 with losses in four of our final five games after winning the first five contests. We need to erase that in our minds by focusing during camp. The best way to do that is to have strong leaders among the juniors and seniors. They need to make this their team from the outset."
The seniors started two weeks ago with a whitewater rafting trip. Several members of the senior class also decided to give skydiving a try.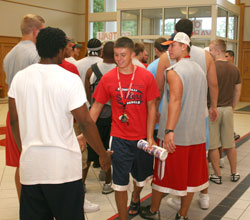 "It was tough, but it was also a good way to come together as group," senior offensive lineman John Maddox said. "We had to work together in the boat or else we would go into the water. There were several times I thought I was going in. But it really allowed us to come together as teammates."
Soccer opens at home Friday, September 2 against Kalamazoo College at 4 p.m. at Mud Hollow Field. The Little Giants, under new head coach Vernon Mummert, will return to the pitch Saturday at 1 p.m. against Hope College. Leading scorer Gary Simkus returns for his sophomore season after pacing the Little Giants with five goals and two assists as a freshman.
The cross country team will start the season with a fun run against a Wabash alumni team at 9 a.m., Aug. 27, featuring some of the all-time greats in Little Giant running history. Junior Dennis Frazee and senior Charles Wohlhuter earned All-Conference honors last year at the North Coast Athletic Conference championship meet and look to lead the team to a higher finish in this year's event. Wabash took seventh at the 2004 meet.
Harris is Wabash College Sports Information Director.
Photos - (on homepage) Freshman Robert Salinas, a defensive lineman from Mission, Texas, makes his way through the tunnel of upper classmen.
(Top) - Freshman Jeremy Morris goes through the line after traveling from Glendora, California.
(Bottom) - Chad Peterman enters the Allen Center after arriving for camp.