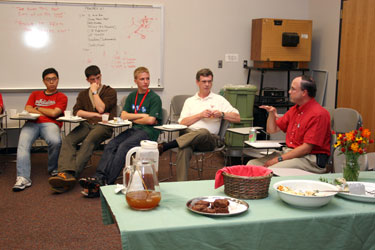 Wabash will welcome 10 international students as part of the 2009 freshman class. Those 10 get a head start this week with an international student orientation.
But there will be two additional international students who have already started their college careers on campus this week as well.
Simon Noirhomme, from Belgium, is the first student to participate in the College's new Student Exchange Visitor Program.
"This program was set up through the efforts of Professor Warren Rosenberg who spent a recent sabbatical in Belgium," Director of International Students David Clapp said. "It will allow a current Wabash student studying French to spend a semester at Universite Louvain-la-Neuve very economically."
Noirhomme will be here studying English for one semester.
A second program will bring a Russian student to Wabash for the entire school year. Ruslan Galiakhmetov will be studying Economics and American Studies. He is a fellow with the International Research & Exchange Board. The IREX is an international non-profit organization specializing in education, independent media, Internet development, and civil society programs.
IREX seeks to develop the capacity of individuals and institutions to contribute to their societies.
"Ruslan faced a competition involving more than 5,000 students from all over the former Soviet Union," Clapp said. "Only the best 300 were selected for the IREX program. The program is operated in conjunction with the U.S. State Department.
Noirhomme and Galiakhmetov will join 10 international students starting their Wabash careers for orientation. The program begins Aug. 17. The students will see the Present Indiana presentations, learn about campus and community resources, and have time with their student mentors to set up local bank accounts and learn their way around town.
They will also get a quick dose of Hoosier culture. Thursday schedule includes a trip to see the WNBA's Indiana Fever professional women's basketball team. The students will venture back to Indianapolis Friday to take in the State Fair.
The fun activities continue Sept. 3 with an Indianapolis Indians baseball game and big fireworks show.
In photo above: Dr. John Roberts '83 goes over health insurance and offers health advice to the international students Aug. 18.