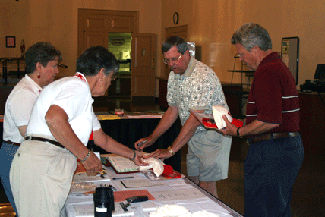 More than 250 Wabash College graduates and their families have returned to campus this weekend for Big Bash '05. Big Bash is in its second year as a consolidated reunion weekend for College graduates. (See photo album at bottom of page.)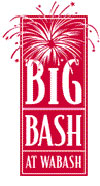 The Big Bash concept grew out of a desire to make Wabash College reunions more special. A planning committee wanted to think big and do something special, Director of Alumni Affairs Tom Runge explained.
During a plan session Michele Tatar, an Alumni Affairs administrative assistant, stressed doing something bold and different. Other colleges had created reunion programs like Big Bash and the staff decided to roll out Big Bash last summer.
"There were times last year when we were calling it the micro-Bash," Runge recalls with a laugh. "People who had been silent during the entire transition voiced their opposition as Big Bash 2004 drew nearer. How could we mess with tradition?"
But as it turned out, Big Bash was a big hit. "We asked for feedback and we received some very good ideas we'll include this year," Runge said. Alumni wanted to see more student work on campus and that opportunity has been added to this year's schedule.
Big Bash begins Friday and runs through Sunday morning. Activities include a golf outing, a Class Chapel Sing, colloquiums featuring Wabash College graduates and staff. A complete schedule is online.
In photos: Duane Blume '55 and his wife Doris look over the Big Bash schedule while enjoying a quiet moment on the campus mall.
Above: Tripp Matthews '65 and Roger Colehower '65 are among the early registrants.
For more information see: