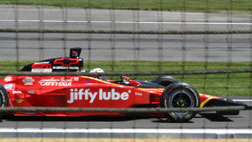 Buddy Lazier clearly didn't have the fastest car at the 89th Indianapolis 500, but he didn't let that stop him from running near the front of the pack all day long. The former 500 winner dodged and darted his way to a fifth place finish after qualifying ninth, and giving Wabash alumni Jonathan '97 and David '99 Byrd a happy ending to a fairy tale month of May.
The Byrd Brothers, principal sponsors of the number 95 Jiffy Lube/Jonathan Byrd's Cafeteria/Panther Racing entry, got back to Indy as a tribute to their ailing father, Jonathan Byrd, who had sponsored cars for 18 races over 20 years. The elder Byrd suffered a debilitating stroke in August of last year, and his sons made sure the Byrd family name was back at Indy.
"Everything has worked pretty well to get us to this point," said Jonathan early on Carb Day last Friday. "We have a fast car, an experienced driver, and we're focused on doing this for Dad."
But it almost didn't happen.
Driving his second warm-up lap on a picture-perfect Carb Day practice session, Lazier heard something break in the front right suspension system, causing his Chevy-powered machine to crash into the turn four wall at Indy. The team was completely devastated, but went quickly to work to rebuild the machine.
"I've got to hand it to the all the team owners here," said Lazier in a post-race interview. "There's five of them and they are all great guys. After what happened Friday, you have to be extremely proud of this result. All the guys worked together all night for two nights to get the car back together."
Lazier's first opportunity to fire the engine and drive the rebuilt Dallara car came when Mari Hulman-George issued the famous phrase, "Lady and Gentlemen, start your engines!"
Lazier raced as high as fourth, but a couple of slow pit stops due to significant damage to the wings of his car caused by illegal blocking, kept him from ever taking a lead in the Indy 500.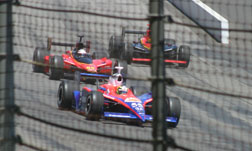 The Byrd brothers, who formed the team in January after purchasing ESPN 950 radio in Indianapolis, hoped only to pay tribute to their father, while raising money and awareness of the dangers of heart disease and strokes. All month long they donned red wristbands that said "Be Aware" for the warning signs of stroke. They donated a large sum of money to the American Stroke Association, and even had the "Be Aware" logo on both sides of the front of Lazier's machine.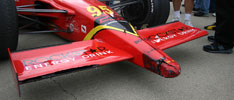 While the Byrds were able only to place a car in the Indy 500 field this year, Jonathan says they hope to field a full team for the 2006-2007 Indy Racing League season. Again, their hope will be to use the Stroke Association as a means of honoring their 53 year-old father.
On homepage: Lazier and David '99 discuss plans on carb day before Buddy took to track.
At bottom: Lazier's damaged nosecone at the end of the race.