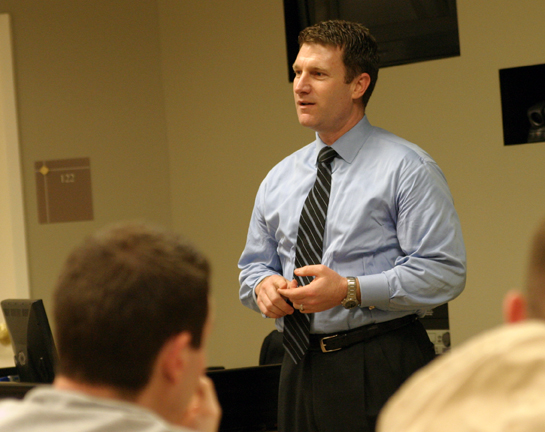 Cameron Hitchcock '84 is the latest Wabash alumnus to take part in the Alumni Career Lecture Series. This lecture series is an element of the Initiative to Promote Opportunity Through Educational Collaborations, a multi-year grant from the Lilly Endowment.
Hitckcock spoke of the importance of his Wabash education to his professional advancement, his experiences after leaving college, and how he ended up as the CFO of Adesa Corporation in Indianapolis. Adesa is an international auto/truck salvage, finance and auction company employing 10,000 people. A recent addition to the NYSE, Adesa is looking toward expanding into Mexico. Adesa has also become a member of the Wabash internship program.
For more information about the lecture series of other components of the Grant, contact Lu Hamilton at hamiltol@wabash.edu or 765-361-6168.