Following their well-received 2005 Spring Break Tour in central Florida, the Wabash College Glee Club is pleased to perform in concert for the community on Sunday, March 20, at 8:00 pm in Salter Concert Hall. The concert is free and open to the public.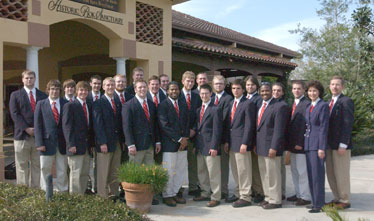 Directed by Richard Bowen and accompanied by Cheryl Everett, the Glee Club will present selections from a variety of musical styles. Brothers, Sing On, a traditional men's chorus piece, could possibly be dubbed "the national anthem of Glee Clubs." Down by the Sally Gardens, Homeward Bound, When I Have Sung My Songs to You, the Beatles' Something, and Loch Lomond are a few of the love songs included in the program.
The seventeenth century poem Go, Lovely Rose by English poet Edmund Waller has been set to music by a twentieth century composer, J. Chris Moore, with hauntingly lovely results. History comes alive in music through The Greenland Whale Fishery, featuring senior tenor Howard Bailey, and Isle of Hope, Isle of Tears, which speaks of the immigrants who entered our country through Ellis Island.
Howard Bailey and fellow senior Greg Priester will share their mastery of the gospel tradition in I Can't Give Up Now. The T-Tones will sing the amusing What Shall We Do with the Drunken Sailor? and the rousing spiritual Climbin' Up the Mountain will be presented by the full Glee Club.
While on tour, the Glee Club presented six concerts, met with several alumni and friends of the College, and had the opportunity to do a bit of sightseeing at Kennedy Space Center and the Canaveral National Seashore.
Concerts were presented at the following locations: the Historic Bok Sanctuary in Lake Wales, a wildlife sanctuary and site of Florida's first carillon; the Winter Park Towers retirement community, the home of former Wabash College president Thaddeus Seymour and to John Heiland '41; the Trinity Preparatory School, where the Club was unexpectedly greeted by math teacher Jeff Holbrook '94; the Westminster Towers retirement community in Orlando; the Oak Hammock retirement community in Gainesville; and First Presbyterian Church of Ocala, where the Club was warmly hosted by Roger Drummond and Joe Carter, both Wabash College Class of '53, and the members of the congregation.
Photo: The Wabash College Glee Club on its 2005 Spring Tour at the Bok Sanctuary in Lake Wales.