Freshmen Visit Monastery, Archabbey Sunday
by Howard W. Hewitt • March 7, 2005

Share: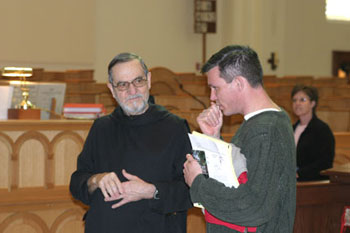 FERDINAND, Ind. – After a day learning about German immigration into southwestern Indiana, Wabash College students learned Sunday of the men and women who followed to teach and tend to spiritual needs.
Greg Redding's freshman tutorial "The German-American Experience" spent the day touring Jasper then the Saint Meinrad Archabbey and the Monastery Immaculate Conception.
The day began with a walking tour of downtown Jasper and a sit-down discussion of local poet Norbert Karpf's poems. But the highlight was the visit to the area's two famed religious institutions.
The 10 students visited Saint Meinrad Archabbey which has 115 monks in residence. The Archabbey sits atop a hill overlooking the small town of St. Meinrad just south of I-64.
The Saint Meinrad Archabbey was founded in 1854 by monks of the Abbey of Einsiedeln in Switzerland. One of the primary missions for Saint Meinrad has been education. It has a school theology, as well as graduate-level degrees for lay and vowed religious students.
"Now this is beginning to look like an immersion trip," one of the freshmen said, after emerging from a College van and seeing the huge Romanesque church and Archabbey grounds.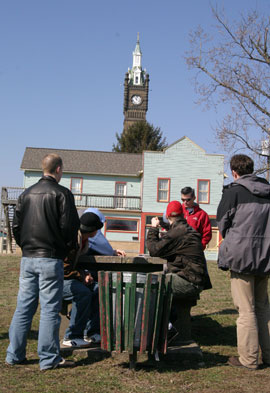 A few conjectured the tour might be heavy on Catholicism but left a bit surprised.

"If you were with them and Catholic, it was 'Ok, we're going to nurture you and bring you along further in faith, but if you were Christian then good, you believe the basics we believe," freshman Keegan McLaughlin said.

"I think when the Brother at the Abbey said he was glad people were Christians coming there and not just that they were Catholics and they encourage people who are Christian and not just Catholics from the parishes to come and learn in the theologies – I think that's one of the best things that drove it home."

A monk, who had been at the Abbey for 54 years, provided the tour. Brother Maurus lead the students and other visitors through the grounds and explained its history. The Saint Meinrad Archabbey is one of only seven in the world, he said.

A short drive back north to Ferdinand included a visit to the impressive Sisters of St. Benedict Monastery Immaculate Conception. The huge church dominates and looks over the tiny town from a hilltop.

As a matter of fact, the Monastery is often referred to by locals as the 'Castle on the Hill.' The church was built by townspeople between 1897 and 1907. There are nearly 200 nuns at the Monastery, many live there but drive to jobs as teachers, nurses, health care providers and other vocations.

Sister Mary Longtime, at the Monastery for 48 years, explained the inner workings of the religious establishment and the history of the impressive buildings. The Monastery traces its roots from Germany to Pennsylvania then from Covington, Kentucky, to Ferdinand.

The church is currently undergoing extensive renovation and is closed to the public. Detailed artistry is being completed by the same craftsmen who renovated the famed dome inside the West Baden Springs Hotel near French Lick.

The German immigration pattern and the religious teachers and leaders who followed were a common theme through both tours.

"I was a little bit aware of the German heritage because I've known of the German festivals," McLaughlin said. "I've got German heritage in my family. I didn't know it was this strong of an influence and that there are such German towns. I didn't know about the Monastery or Abbey. It's pretty impressive."

The freshman class continues its immersion learning experience Monday with a trip to the utopian community of New Harmony and a visit to the historic German district of downtown Evansville.

Hewitt is Wabash College Director of New Media and Web Content Editor.

In photos:

At top right: Professor Greg Redding talks with Saint Meinrad's Brother Maurus about his live at the Archabeey.

Lower left: Redding takes a few extra moments Sunday morning in Jasper to discuss the poetry of Norbert Krapf.




For more information see: