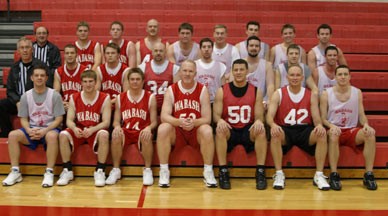 Prior to the exciting varsity game against Kenyon on February 19, won by the Little Giants on a last second jumper by junior Kyle Medeiros, seventeen alumni returned to Chadwick court for the annual alumni game. Some of the most prolific Little Giant scorers in Wabash history returned to the hardwood including the likes of Pete Metzelaars '82, Mike Crnkovich '93, Chad Tabor '99 and Josh Estelle '00.
The game unfolded like an NBA all star game, not much half court offense and no shyness by anyone when it came to shooting the ball. The majority of the offensive output came on several three point attempts, at least one by nearly everyone who played and a few slam dunks by those young guys that can still jump. With the number of three pointers attempted you would have thought these guys played in the Grinnell College system.
While the number of alumni participants were up this as compared to previous years, we allowed six junior varsity players (Ty Benefiel '08, Devin Bilbee '08, Kyle McClammer '08, Ryan Nuppnau '08, Lucas Odom '08, and Jason Smigielski '08) to play in the game giving them a chance to compete with some of the greatest players to ever don the Wabash uniform.
Other alumni players included Paul Smith '74, Bodie Stegelmann '87, Drew Northern '89, Brett Butler '90, Beau Barrett '98, Travis Merrill '98, Jim McCall '99, Kip Chase '03, Brady Claxton '03, Joe DesJean '03, Ryan Short '03, and Chris Jones '04. Officiating the game were alumni Jon Pactor '71 and Doug Rogers '80. Thank you to all who made the effort to return to campus for the day and make this game possible.