PAUL CAYLOR MCKINNEY August 21, 1930 – December 20, 2003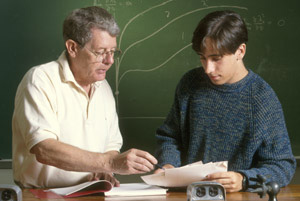 Paul Caylor McKinney, Dean Emeritus and professor of chemistry at Wabash College, died at his home in Crawfordsville Saturday night, December 20. He taught at Wabash College for 46 years, a distinguished career longer than that of any other faculty member since the College's founding in 1832. McKinney was the son of Theodore R. McKinney and Sally B. Caylor of Otterbein, Indiana.
A 1952 graduate of Wabash College, McKinney earned his Ph.D. in chemistry from Northwestern University in 1958. He studied abroad at Albert Ludwigs Universitate, Freiburg University on a Fulbright Fellowship.
McKinney returned to Wabash as an instructor in chemistry in 1956 and continued his teaching and research until his death. Named an assistant professor in 1958, associate in 1964, and full professor in 1977, he chaired the chemistry department for four years and the science division for three years. In 1981 he was named Dean of the college by President Lewis Salter. He resigned that position in 1993 and returned to teaching. In 1996 McKinney was awarded an honorary Doctor of Humane Letters degree from Wabash.
Professionally, McKinney was a member of the American Association for the Advancement of Science, the American Chemical Society, Indiana Academy of Science, New York Academy of Science, Sigma Xi, and numerous honorary scientific societies.
Throughout his life in Montgomery County, McKinney was active in community affairs. He was a director of the Montgomery County United Fund Drive; a board member of MUFFY; president of the board of the Youth Service Bureau; a member of the Mayor's Commission on the Environment, the Montgomery County Democratic Central Committee, and the Crawfordsville Community School Board Nominating committee. He also served several terms as chairman of the Montgomery County Democratic Party.
McKinney leaves his wife Irmingard, a daughter, Katherine, at Indianapolis, and son, Michael, at Bloomington. Surviving also are two brothers, Donald L. McKinney in West Lafayette, IN, and Ronald L. McKinney in Somerset, VA.
Hunt and Son Funeral Home is in charge of the cremation. Burial will be private. There will be a memorial service at 2:00 p.m. on Saturday, January 10, 2004 in the Wabash College Chapel with a reception to follow in the International Hall of Detchon Center. The family requests that memorial contributions be made to Wabash College.