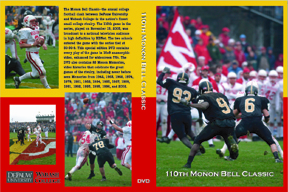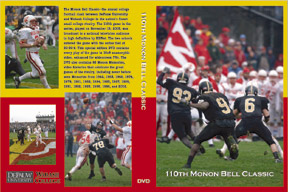 The Wabash College football team broke the tie in the all-time series with DePauw University, winning the 110th Monon Bell Classic 37-20 to claim a 51-50 edge in the all-time rivalry that dates back to 1890.
Now the DVD that commorates the 110th meeting of the two schools is available in the Wabash College Bookstore. DVDs will arrive on campus on Monday, December 22 and should be available for sale later that afternoon.
The DVD contains the entire game, which was produced by HDNet, and features an anamorphic 16x9 aspect ratio for the first time ever, which means it will fill the entire screen of wide-screen TVs. "This is the highest quality production we've ever had," said Ken Owen, who handled the programming for this year's DVD.
The DVD also contains more than two dozen Monon Memories, historical vignettes of the most exciting games in the rivalry. Included are more than a dozen that have never before been seen. Both schools' halftime videos are also included in the two-sided DVD.
Cost of the DVD in the Wabash Bookstore will be $15.