How do you properly celebrate the 100th birthday of the Wabash golf program? With an outing, of course!
Twenty-five golf alumni and friends gathered Saturday at the College and Crawfordsville Country Club to celebrate the anniversary. Highlights of the event included the debut of the golf program's new indoor practice facility in the Allen Athletics and Recreation Center and meeting new head coach Josh Hill.
"It feels great to be a part of a program that has a 100-year history," said Chris Carpenter '96, who played in a fivesome with former teammate and Dean for Enrollment Chip Timmons '96, Director of Annual Giving and Advancement Services Aaron Selby '06, Jonathan McDowell '06 and Coach Mac Petty H'82.
"The opportunity to get together with the guys and celebrate the College was something I couldn't miss," Carpenter said. "The love we have for the program and team — when I was a student and now — runs deep. We are excited to see what the future has in store for Wabash golf."
Wabash speech professor Addison A. Ewing introduced golf to the campus in 1896 and helped to create Crawfordsville's first course in the old Crawford Woods in 1898.
On May 22, 1921, Wabash and Purdue University played the first intercollegiate golf match in the state of Indiana. The Boilermakers prevailed, 8-1, that day in Crawfordsville.
Wabash golfers have a history of success nationally dating back to 1956.
John Banghart '58 played in the 59th National Collegiate Golf Championship held at Ohio State University in 1956. Randy Grimes '81 was a participant in the 1981 NCAA Division III Tournament. Mike Kelley '86 placed 34th overall at the 1986 NCAA Tournament played at Wilkes College.
Members of the 1957 Wabash golf team won the Indiana Intercollegiate Golf Tournament. Bill Locker '60 was the tournament medalist with a score of 71. Bob Layne '68 placed second overall after shooting a 74.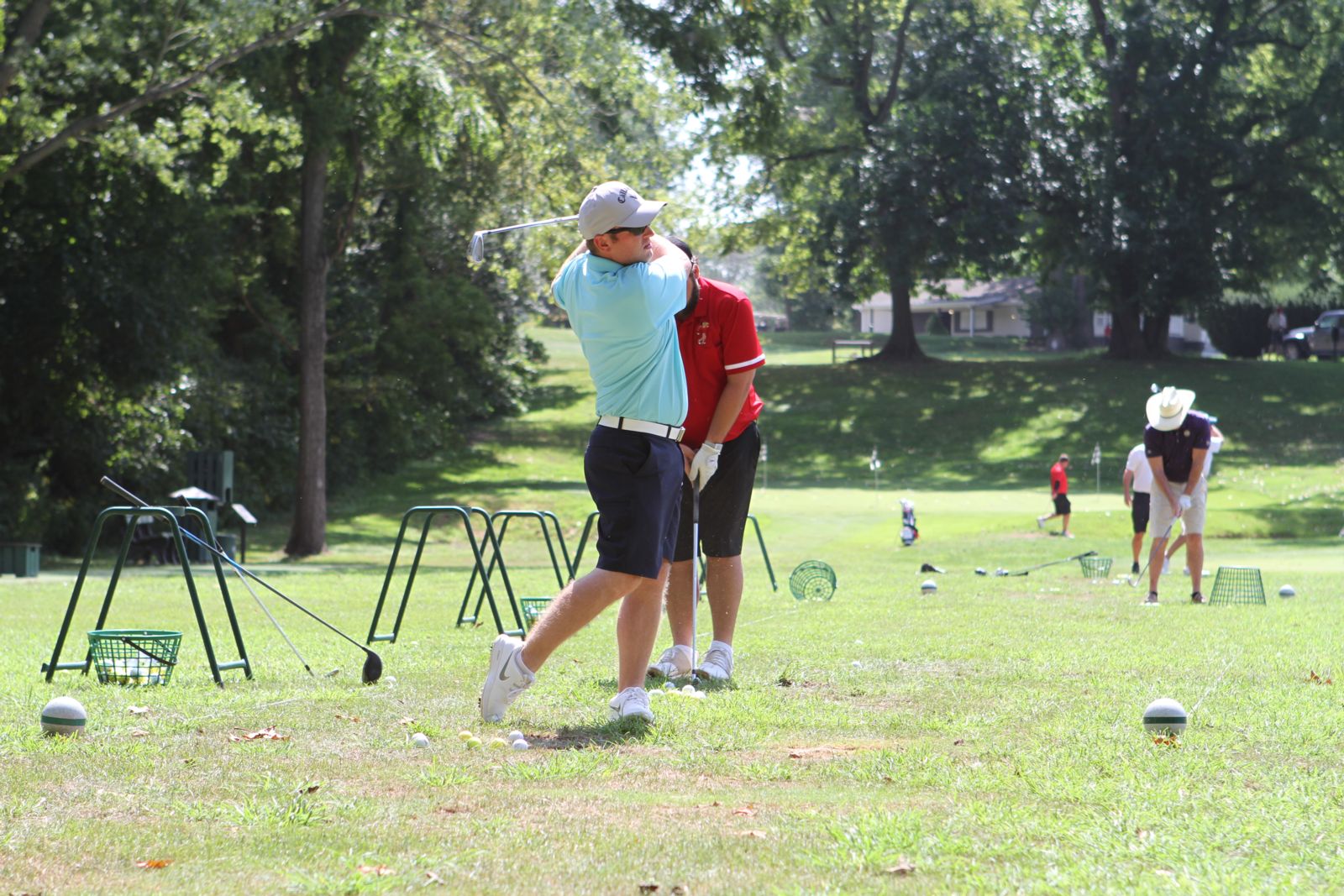 "You are all part of a program full of rich history," Petty told the alumni who participated in the anniversary celebration.
Petty served 13 seasons as the head golf coach and most recently served as an advisor to former head golf coach Tyler Schmutz during the 2019-2020 season. He spent several seasons as the fall golf coach while also working his primary duties as head basketball coach at Wabash.
Five of Petty's former golfers have earned All-North Coast Athletic Conference honors, with Logan Burdick '15 most recently earning First All-NCAC honors in 2014.
"We've had so many special, talented golfers come through this program," Petty said. "To be a part of it as a coach for all those years means a lot to me."
Most recently, the 2020-21 Wabash golf team scored a fourth-place finish at the 2021 North Coast Athletic Conference Men's Golf Championship event. The finish was the best by a Little Giant team since placing fourth in 2009.
"I am blessed and fortunate to lead these men. Being able to see students succeed at a sport they love is what drew me to coach," said Hill, who recently joined the program as head coach after spending two seasons as an assistant coach at Guilford College. He also played as a student and had an accomplished career as a member of the nationally-ranked Quakers' golf program.
"If our guys want to get out on the course at 6 a.m. to get some practice in before class, I am going to be that coach for them. If they want to stay at the practice facility until 9 p.m., I am going to be that coach for them. If they just need someone to talk to or a quiet place to study, I am going to be that coach with my office open for them," Hill continued. "I am invested in making sure that these young men succeed on and off of the golf course."
Hill said he believes Wabash is not that far away from competing for a North Coast Athletic Conference championship and a berth in the NCAA tournament.
"Going above and beyond is what sets champions apart. We will put in that extra work," Hill said. "The golf season is long, but if we work hard and hold each other accountable, myself included, the sky is the limit for this team and this program."
Wabash opens the 2021 fall portion of the season on September 12 at the Hanover College Invitational at the Belterra Casino Resort in Florence, Indiana.