Ryan Hahn '21 felt a mix of emotions ahead of his one-one-one meeting with artist JSTN CLMN.
"I'll be honest, I hate critiques," said the art and religion double major, who had poured months into perfecting his various ceramic art pieces. His work will be displayed at the at the Senior Art Majors Exhibition, which opens Friday inside the Eric Dean Gallery.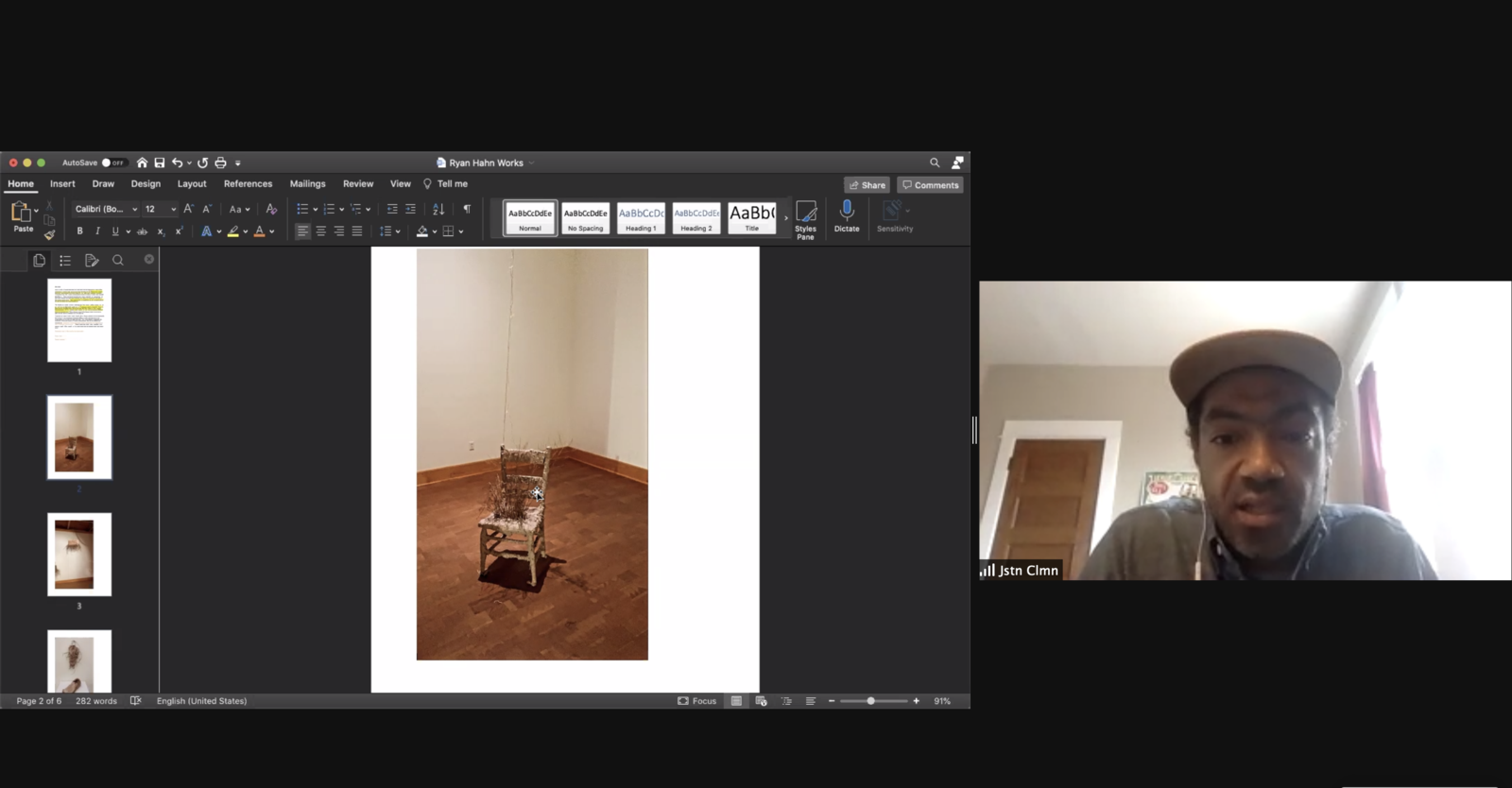 Even though he had been through plenty of critiques with his peers and professors, Hahn was still nervous about what CLMN might say about his work.
Justin Coleman, an assistant professor of Studio Art at Denison University who utilizes the professional name JSTN CLMN, is a practicing artist working in sculpture and ceramics.
His exhibition "Considering a Post- Black Americana," was recently featured in the Eric Dean Gallery. Through sculpture, objects-de art and artifacts, CLMN examined themes of Black cultural representation, family lineage, labor history, status objects and cultural commodity.
"To have the opportunity to hear from CLMN – an artist who's well-known and featured in galleries – is really exciting and nerve-racking," Hahn said days before his one-one-one meeting. "We all would love to be published or be featured in a gallery, and to have someone come here who's done that and knows what it takes to get there is a big deal."
As the two artists met recently via Zoom during Art Professor Annie Strader's class, the nerves seemed to fade as Hahn took questions, talked through his vision and experiences as an art student and listened to the feedback CLMN gave after examining his pieces and reading his artist statement.
Hahn took household objects – a chair, suitcases and a cane, for example – and transformed each with the use of clay, metal, wood and string into art pieces that represent the regeneration of the human body and soul.
"I try to focus on conceptual art," Hahn told CLMN, "rather than just making something pretty."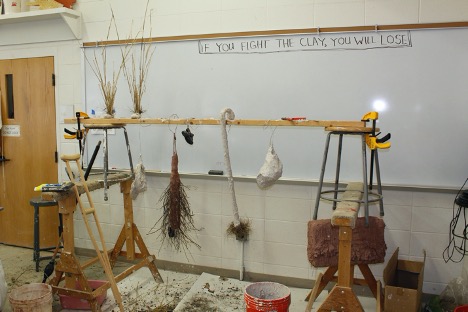 "One of the things I really like about your work is that it is so much related to objects, and that you use objects as a way to connect to people's experiences," CLMN said. "All of these materials and objects that you use are things that most everyone has some experience or connection to – sticks, mud, clay, chairs – these are common of the human-experience."
"That's really interesting and not something I've thought of before," Hahn said. "I like the idea of temporality or entropy, and fighting the breakdown of what it means to be human."
After CLMN wrapped up his session with Hahn, he met one-on-one with five other senior art students who displayed a large range of work from theatrical performances to video animations.
These kind of opportunities for students to engage with outside, practicing artists is essential to their Wabash experience and personal growth, Strader said, and can help inspire new ideas.
"Our students need to hear the different perspectives and approaches to making and experience what it's like to get feedback from someone who has a fresh-take on their work," she said. "Having those meetings also helps with students' professional development. They get to see what kind of routes and possibilities are out there after graduation."
Sam Wise '21, another art major who met with CLMN, said he appreciated the opportunity to engage with the practicing artist and show off his aluminum foil sculptures and photography.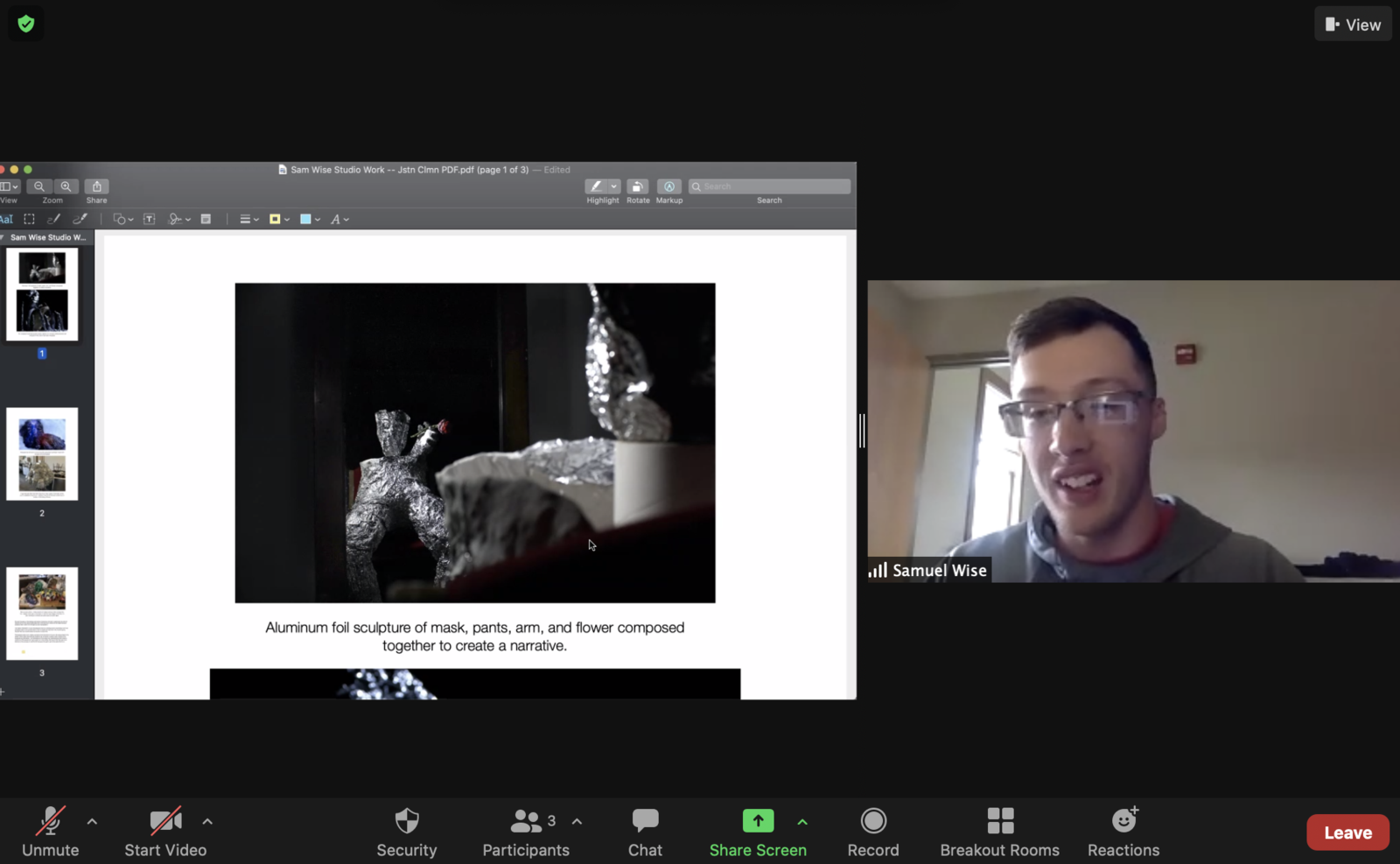 "Very few people can empathize and truly understand the journey an artist goes through when they are trying to figure out who they are and what they want to create," Wise said. "CLMN is someone who understands, can draw from his own experiences and offer really valuable reflections that could impact what I do next with these pieces.
"Professor Strader told our class that she didn't get the chance to have one-on-ones with professionals until she was a graduate student," Wise said. "We really are lucky to have these opportunities, and no matter how you take it or use it, the advice and time that he gives is definitely worth a lot."
CLMN said he was impressed by the depth of students' work and that the critiquing process "get easier" with practice. He said, over time, students will continue to learn how to get positive feedback and take critics in a way that works for them.
"An important thing to remember, especially as an artist at that age, is that your perception of art is going to change," CLMN said.
"A lot of people have this preconceived notion of what art is supposed to be. They're like 'I'm really good at drawing, I have this vision so I want to make it exactly as I envision.' That's not necessarily how things happen in the art world," he said. "It's not about making or pleasing this one particular vision – it's about growing and learning the best way to communicate these ideas, and being versatile doing it."
The 2021 Senior Art Exhibit inside the Eric Dean Gallery opens at 4:30 p.m. on Friday, April 23, and remains open to visitors through May 16. Gallery hours Monday through Friday are from 9 a.m. to 5 p.m. Hours during Commencement on May 15 are 10 a.m. to 2 p.m.