Wearing his 'Wabash Always Fights' face mask, Malcolm Lang '21 rolled up his sleeve and made history as the first student to receive his shot at the College's #BashCOVID vaccination clinic.
As Deputy Montgomery County Health Officer and Wabash physician Dr. John Roberts '83 administered the Pfizer shot and placed the Band-Aid on Lang's arm April 9, cheers erupted from the crowd of volunteers working at the on-campus clinic.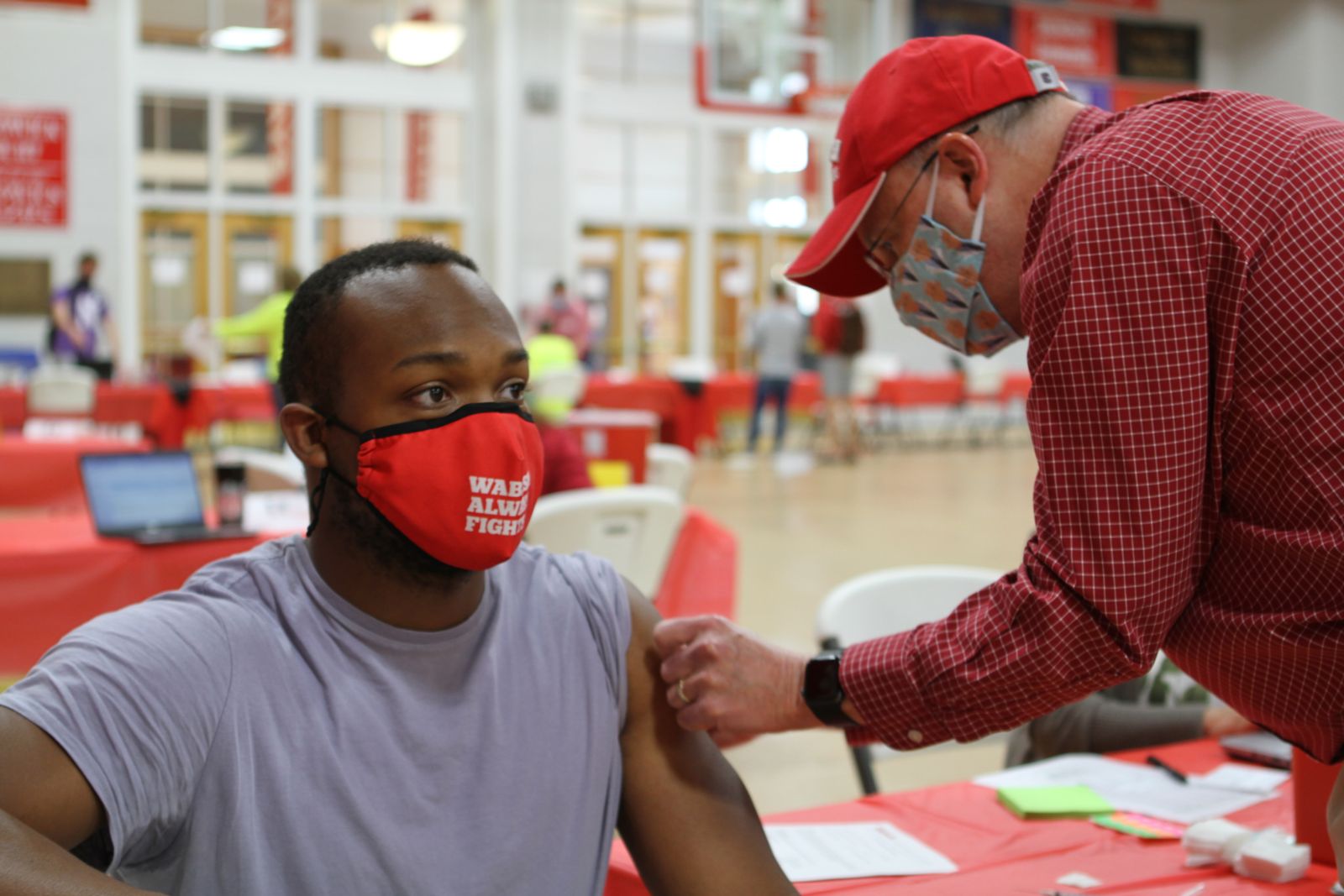 From mask wearing and physical distancing to daily symptom reporting and adjusting to the virtual world, students have made many scarifies to ensure that the College maintains its greatest traditions and provides in-person learning and residence.
"If any other student were in the same position that I was being first to get the shot," Lang said, "they would have done the same thing."
"I don't feel too special, but I am happy to set a precedent for vaccinations. We all have to do this for the greater-good," said Lang, a student-athlete and COVID Action Response and Education (CARE) team member. "We have to do what we can to protect the brotherhood."
More than 50 volunteers helped vaccinate 620 people during the first vaccination clinic on campus. Participants will receive their second dose of the vaccine on April 30.
"This is an excellent start to getting us closer to a more normal school year in the fall, and it will be a big plus for many students who need to be vaccinated for summer jobs or internships," said Wabash nurse Chris Amidon, who admitted shedding a few happy tears after watching Lang get vaccinated. "I was overwhelmed by the number of volunteers, some of whom gave 10 hours or so of their time, and many of whom are coming back for the second clinic.
"We had parents, friends, and alumni who are pharmacists, doctors, nurses, and who have volunteered at their local county sites, along with a huge cadre of Wabash students and staff who volunteer at our county's vaccination clinic site. Everyone was highly qualified and experienced, which made our event run smoothly," Amidon said. "The students were fantastic — good-natured, and willing to do what it takes to protect themselves and the greater community."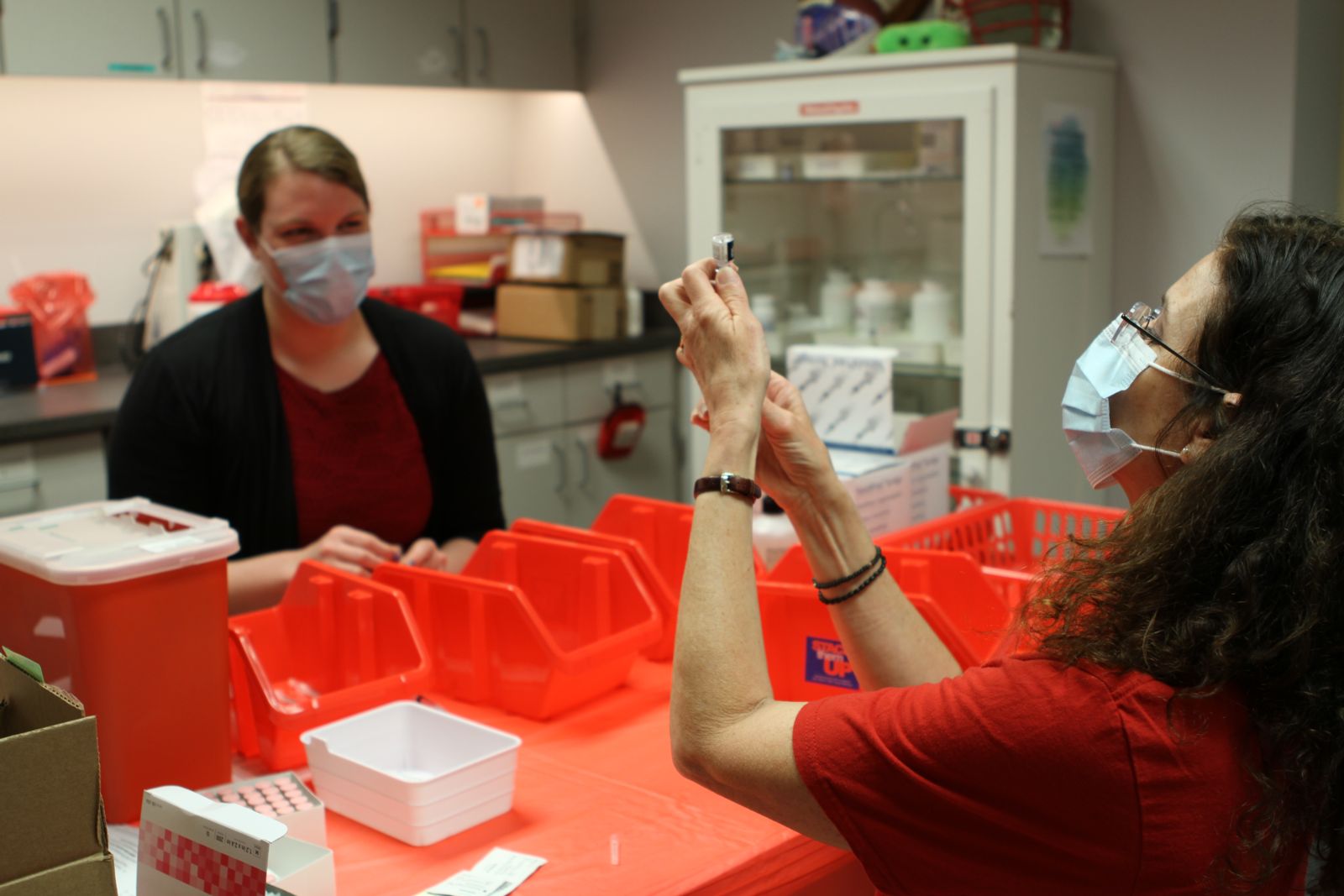 Lee Lucas, a pharmacist and Wabash mom of Ben Lucas '22, volunteered her day to draw doses of vaccine from vials into syringes to be administered by other volunteer clinicians at the campus clinic. She has been impressed with the way the College has worked to protect its students during this pandemic, and is excited that an extra level of protection is being provided.
"I think Wabash has always taken care of their students," Lucas said. "The College shows them how to lead by example, and offering this clinic to students and the greater community is leading by example."
President Scott Feller thanked volunteers at the first clinic and labeled the day as an emotional one for the campus.
While so much of living through this pandemic has felt unprecedented, witnessing the first dose of the vaccination sequence provided hope and felt like a giant step toward normalcy for the Wabash community.
"This is a really big deal," Feller said. "I hope that in 10 years when the guys come back and are asked what it was like here during the COVID-19 pandemic, that this day — the day they got vaccinated — is what they talk about. This day shows us that there is a light at the end of the tunnel."
Paul Haesemeyer '21, who with Lang has been selected as a Class of 2021 commencement speaker, said he signed up to get his shot because he felt it was important to "be a part of the solution."
He recalled being in New York City with the Glee Club last year when the World Health Organization declared COVID-19 a pandemic and the Trump Administration declared the novel coronavirus a national emergency. The theater major said it was hard to witness the "creative world" shut down around him.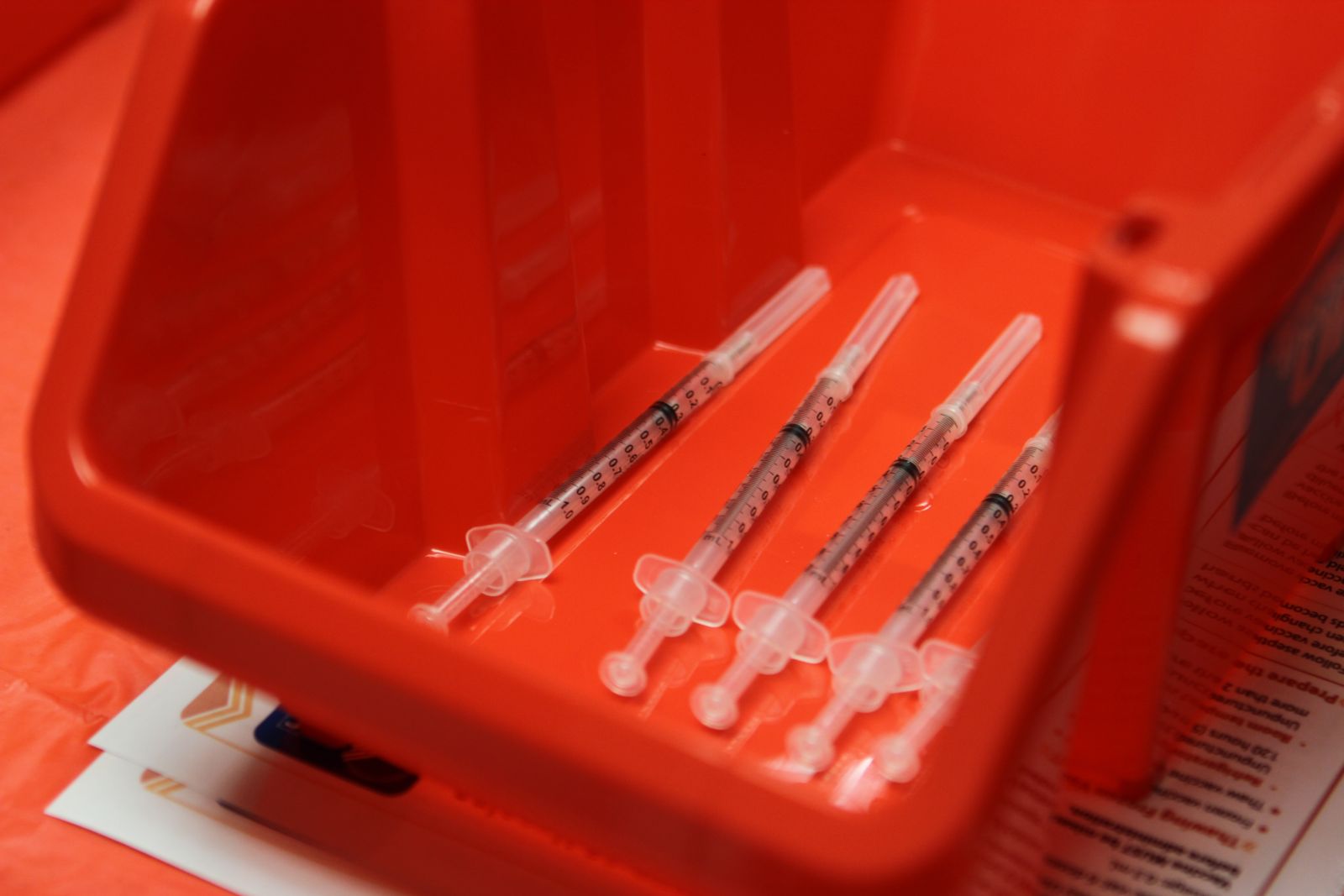 "We keep on saying we want the world to get back to normal and that won't happen unless we all work together," Haesemeyer said. "Getting vaccinated is how we'll do it."
The second dose will be administered to students ahead of finals and the much anticipated in-person Commencement ceremony in May for the Classes of 2020 and 2021. While there is plenty of positive momentum, Amidon and Feller stress that now is not the time to let our collective guard down.
Everyone must maintain resilience and the 'Wabash Always Fights' attitude, Feller said, by wearing masks, washing hands, watching distance and avoiding crowds, close contact, and confined spaces.
"We must continue the hard work of COVID-19 mitigation," Feller said, "both individually and as a community."