Wabash College is gearing up for its annual TEDxWabashCollege event April 11. The free and virtual event will be live-streamed at 7 p.m. Register for a ticket here.
TEDxWabashCollege brings together speakers from across the country to share their innovative ideas and stories with Wabash students, faculty, and staff, as well as the greater Crawfordsville community.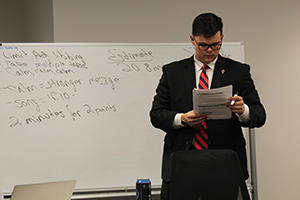 A TEDx event is a local gathering where live TED-like talks and performances are shared with the community, according to the nonprofit organization. These events are fully planned and coordinated independently, on a community-by-community basis.
All TEDx events present multiple issues and a diversity of voices from many disciplines.
"It's so much more than sitting there and listening to a short lecture," said Organizer Daniel Bass '22. "The purpose of these talks is to inspire and give viewers ideas on ways to change the world and make it a better place, whether it be through an academic sense, a mental mindset, or emotionally."
The theme for this year's event is "By Design" and will offer sessions with nine speakers, including best-selling authors, a top-100 podcast host, a professional mindset coach, and a five-time world-record holding powerlifter. Speakers include Valerie Griffin, Matt Gagnon, Lew Ziska, Jordan Paris, Jordan Syatt, Goddess, Melissa Hughes, Mark Metry, and Julian Guthrie.
Traditionally, guest speakers would have been invited to campus with the large event taking place in the Fine Arts Center's Ball Theater. Due to COVID-19, the event will be held completely online.
Speeches, each roughly 10 minutes in length, have been prerecorded and all will be shown in one broadcast.
"We can't be in person, but we still wanted this year's event to be interactive and fun," Bass said. "Instead of seeing it on the stage or hosting a Zoom session, our speakers present in places related to their talk.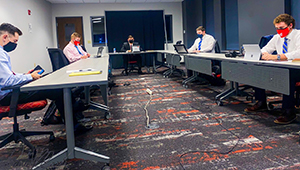 "Goddess, an award-winning speaker, author, and wisdom teacher, talks about imagination and gives her presentation in the Andrew Freedman Home in New York City," Bass said, giving an example of what viewers can expect to see during the TEDxWabashCollege event. "Author, podcast host, and entrepreneur Jordan Paris, who talks about education, spoke in front of a group of college students at the University of Florida."
Since its inception in 2017, Wabash students have managed all aspects of organizing TEDxWabashCollege, from selecting speakers to executing all of the logistics associated with the event.
"This is the only TEDx event that we can find any place in the country that is organized and run by students – no one else is doing it," said Roland Morin, Associate Dean of Professional Development. "It's absolutely unbelievable and the quintessential Wabash experience."
The annual event would not be possible without the Robbins Family Fund, an endowment created by Clay '79 and Amy Robbins that supports student-centered events and activities at Wabash College.