Wabash College has received a grant from the Indiana College Action Network (ICAN) with support from the Indiana Division of Mental Health and Addiction (DMHA) that will help fraternity leaders respond to needs during the time of COVID-19 and beyond.
The $5,500 grant will establish the Leadership Education And Development program (LEAD) by strengthening existing campus support systems, and allowing the flexibility to create new ones. LEAD aims to develop student leaders within fraternities as they mentor and guide their residents to make good decisions regarding mental and physical health, academics, philanthropy, diversity and inclusion, substances, and more.
"Given that lead effectively is part of our College's mission statement, I'm particularly excited about this opportunity for our students, said Marc Welch '99, As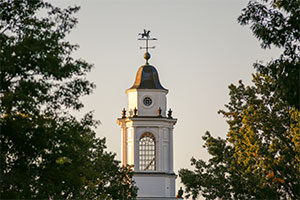 sociate Dean of Students. "Through ICAN's and DMHA's generosity, this grant represents our commitment to supporting students now and moving forward. During a time when so much seems beyond their control, I hope the LEAD program helps them feel in control and well supported."
There are 10 fraternities on the Wabash campus and LEAD will highlight its importance and social influence in guiding students to make good decisions. The program would will include one leader from each fraternity, typically the president.
The program will include readings, on-campus or Zoom sessions with invited speakers or roundtable discussions with recognized Wabash alumni leaders in education, outreach to the Crawfordsville community, on-campus leadership development specific to fraternity life with our college mental health counselors, nurses, doctors, local emergency responders, and Campus Safety & Security.
Considering all aspects of Greek life, LEAD would also focus on training and development with Athletics, Admissions, Advancement and Alumni Affairs, the Academic Centers of Excellence, and the College's Title IX Coordinator.
"This grant supports fraternity leaders and the work that they do in-house and beyond," said Welch. "Over the past year, we've extended additional resources to Resident Assistants in Residence Halls and developed the CARE Team in light of Covid-19. We hope this grant will enable all of our housing leaders to remain relevant in 2021 and beyond COVID-19."