A quick glance at his resume and one might assume that Nick Weaver '20 is simply hard wired for success.
While at Wabash, he was a Center for Innovation, Business and Entrepreneurship (CIBE) Senior Partner. He interned at Google and had a full-time job offer as a Sales Development Representative at Salesforce six months before graduating from Wabash last May.
Some guys have all the luck, right? Not quite. Three years earlier he was delivering pizzas over the summer when he realized he needed to chart a different path.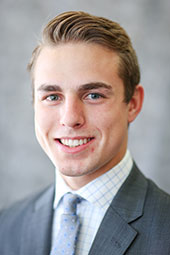 "I came back to the store after getting stiffed on tips four different times," Weaver said. "I had a stack of pans waiting to be washed and I got overloaded. I looked at those pans and thought, 'I need to find something.' I needed the motivation."
Weaver found his motivation through the Schroeder Center for Career Development. During his weekly visits with Roland Morin '91, Associate Dean of Professional Development, he crafted a resume, learned how to research opportunities, and began to make proper professional inquiries.
From there, he participated in a sales immersion program with Herm Haffner '77 and fell in love with sales. He earned an internship with Safe Hiring Solutions later that fall doing research and identifying sales prospects, which was funded by the Dill Small Business Internship Fund. He took advantage of a Professional Immersion Experience (PIE) by visiting Indianapolis-based tech firms over the semester break. An invitation to join the CIBE soon followed.
"I said yes to everything," the Brownsburg, Indiana, native explained. "I was all-in for the opportunities and I put in the work to leverage that and put myself in a position to be successful."
The summer following his sophomore year he gained more experience at Safe Hiring Solutions and used all that he had gained as a springboard. As a junior, he was a CIBE partner working on consulting projects and managing other students. He was also using time at Career Services to his advantage, tailoring resumes and cover letters to each job opening and anticipating potential interview questions.
"I learned that everything has value and impact," the history major said. "I made that case in my answers and in the questions I asked. I was able to articulate not just what I did, but what the impact was and how I'll be able to do that for each company."
Those lessons proved important to Weaver and others. He started a sales and marketing club on campus and later landed an internship at Google during the Summer of 2019.
"Very quickly, Nick went from knowing to doing," said Haffner, CEO of Total Solutions, Inc. in Crawfordsville. "He has one of the most inquisitive minds I've ever encountered and when he shows interest, he really locks in. He's really good actively engaging with others."
Following his summer experience in San Francisco, Weaver capitalized on the lessons learned along the way and landed a position in big tech with Salesforce.
"Nick took advantage of every single experience he could and networked his tail off," said Morin. "It was amazing to watch him use those experiences to his benefit."
With a budding career in front of him as a sales development representative, Weaver appreciates the doors that opened for him.
"Wabash opens doors," he said, "but you have to be able to take those educational experiences and apply them to real-world situations. Through my education and experiences, I can show results and add value. It provides you a platform to actually take that knowledge and do it in real-world environments."