The Princeton Review continues to rank Wabash College among the best institutions nationally for undergraduate education in its annual college guide.
Inclusion in The Princeton Review's Best 386 Colleges demonstrates that Wabash ranks among the top 13 percent of more than 2,500 U.S.-based four-year colleges. The review includes detailed accounts of the best schools with rating scores in eight categories. Wabash received an overall academic rating of 92 with scores of 98 or better in the categories associated with teaching, faculty interest, and accessibility.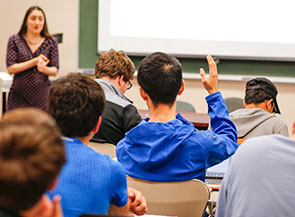 "It's always good for Wabash College to be included in The Princeton Review College Guide," said Wabash President Scott Feller. "The 2021 edition of The Best 386 Colleges was created based on the actual student experience, which is why it is gratifying to be ranked among the top-20 in so many important areas. Getting high marks for the accessibility of our professors and classroom experience is testament to the excellence of our faculty. And in the midst of this pandemic, continuing to be ranked for our outstanding career services and health services is certainly important."
In addition, The Princeton Review's college guide includes lists of top-20 schools in 62 categories, which are based on surveys of 143,000 college students collected during the 2019-20 academic year.
Wabash ranked in the top-20 in 12 categories overall, including seven rankings in the top-10 nationally.
The liberal arts college for men consistently gets high ratings for its faculty, including No. 4 for the "Most Accessible Professors" and No. 8 for "Professors Get High Marks." Students cited a strong relationship with top-notch faculty, who "always have their doors open for questions" in fostering a broad-based and thoughtful educational experience.
Further, the College received high marks for "Great Financial Aid (No. 17)," "Best Class Experience (No. 19)," and "Best-Run Colleges" (No. 20).
Wabash's Schroeder Center for Career Development was cited for its performance, occupying the seventh spot in the "Best Career Services" listing. In February, The Princeton Review ranked Wabash No. 1 nationally in "Best Alumni Network" and "Best School for Internships."
"We are delighted to once again be recognized for the outcomes our students achieve," said Steven Jones, Dean for Professional Development. "Our Career Services team partners across the campus to ensure each student is given the best chance to prepare for life at Wabash and beyond. Through professional immersion trips, robust internships, passionate alumni support, significant graduate school visibility, and meaningful classroom experiences, Wabash men collect experiences that distinguish them from the competition."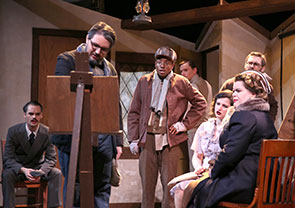 The Wabash theater department was recognized for its work as well, checking in at No. 11 on the "Best College Theater" list.
"It is a great honor for Wabash Theater to be recognized again by The Princeton Review as a nationally-ranked theater program," said Jim Cherry, Associate Professor of Theater and Department Chair. "It reflects the creative and innovative energies of our faculty, staff, and students, and underscores our belief in the potential of theater to be a site where the liberal arts can intersect, and become physical and embodied."
Among the other top-20 rankings, Wabash ranked No. 6 in "Lots of Greek Life," No. 6 in "Everyone Plays Intramural Sports," No. 7 in "Best College Newspaper," No. 10 in "Most Active Student Government," and No. 13 in "Best Health Services."
"I don't need the validation of external rankings to know that we have top-flight faculty at Wabash College, but I am pleased that their work again has been recognized by The Princeton Review," said Todd McDorman, Acting Dean of the College and Professor of Rhetoric. "Wabash faculty consistently demonstrate their quality, but perhaps there has been no better demonstration of that than their commitment to spring's transition to virtual learning and the dedication they have shown in preparing for on campus teaching this fall. In preparing for the fall Wabash faculty have continued to strive to provide an excellent classroom experience for students by learning new technologies and adopting new teaching strategies. Indeed, they very much deserve the 'high marks' bestowed by the Princeton Review and I am thoroughly impressed by their efforts."
Wabash has been featured in every edition of the Princeton Review's college guide since the service was established in 1992.