After tabulation and confirmation of the ballots, alumni have selected Steve Campbell '92 to join the Wabash College Board of Trustees and Ray LaDriere '78 to continue with a second term. Both men will serve on the Board for a four-year term ending in 2024.
Alumni also reelected incumbents Emmanuel Aouad '10, Ryan Mills '00, and Tony Unfried '03 to the Board of Directors of the National Association of Wabash Men in addition John Kerezy '77 and Ben Robinson '01 have accepted presidential appointments. All will serve on the NAWM Board for three years with terms ending in May 2023.
There was a 46 percent increase in voting over last year.
About the new Wabash College Board of Trustees Alumni Representatives
Steve Campbell '92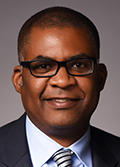 Steve Campbell is vice president of communications for the NFL's Indianapolis Colts. Before joining the Colts, he was founder and president of Campbell Strategies, an Indianapolis-based communications firm. He previously enjoyed a long career in public service, first as a top media advisor to two Indiana governors and later as communications director and deputy mayor of Indianapolis. Mr. Campbell earned a law degree from Indiana University and also studied at The American University. He later was a senior associate instructor in IUPUI's Department of Journalism & Public Relations. An active community volunteer, he has served as co-chair of Indianapolis' Bicentennial, co-chair of the National FFA Conference and as a member of the Indianapolis Super Bowl XLVI Host Committee. Mr. Campbell has been featured in Who's Who in Black Indianapolis and was awarded the Sagamore of the Wabash, Indiana's highest civilian award, by three governors. A political science major at Wabash, he was vice president of the Student Senate, editor-in-chief of both The Bachelor and The Wabash, and a member of Phi Gamma Delta. He also served as a member of the NAWM board. He lives in downtown Indianapolis with his wife and two sons.
Ray LaDriere '78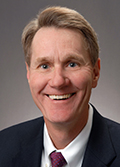 Ray LaDriere is a senior partner and general counsel at Locke Lord LLP, an international business law firm. While at Wabash, he majored in economics, was a member of Beta Theta Pi, and was active in the Sphinx Club. After Wabash, he obtained his JD from Vanderbilt Law School. They recently supported "One Wabash" and the campus independent housing building project. Mr. LaDriere served on the NAWM Alumni Board for six years and is currently a leader of the Dallas Wabash Alumni group. He has been a member of the Board of Trustees for four years and currently serves on the Academic Affairs, Building and Grounds, and Finance Committees. Recently, he was one of three trustees involved in a project working with Wabash senior staff to critically analyze the Wabash five-year budget plan. Mr. LaDriere and his wife, Anne, have three adult children, Mary, Megan, and David; and a new granddaughter.
About the new Board of Directors members of the National Association of Wabash Men
Emmanuel Aouad '10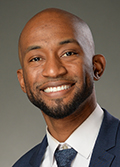 Emmanuel Aouad is an operational excellence manager, teaching Lean Six Sigma courses and leading large-scale process improvement initiatives for Lennox International. He has been volunteering with Wabash at local college fairs since his arrival in Dallas in 2010. He also served on the board for a local Dallas charity for five years and volunteered as a hurdles coach for three years. Mr. Aouad currently serves as the Academics and Life Planning chair for the NAWM and occasionally comes back to campus to provide Lean Six Sigma training. During his time on campus, he was involved in track and field, Student Athletic Advisory Committee, MXIBS, Jazz Band, and Wind Ensemble. He lives in Dallas with his wife, Ashlee, and spends his free time traveling, performing at music conventions, and competing in ninja competitions.
John Kerezy '77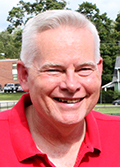 John Kerezy is an associate professor at Cuyahoga Community College, where he coordinates the Media and Journalism Studies program and is one of the college's first Mandel Faculty Fellows. He has also been a high-school speech and debate coach for 12 years. Mr. Kerezy ran his own public relations company for nearly 20 years, and earned more than a dozen state and national awards for his writing and public relations activities. He has served on numerous non-profit boards and also assisted a homeless agency, The City Mission, for many years. Mr. Kerezy served as a class agent for Wabash for 11 years, stepped aside, then resumed class agent activities in 2016. In 2017, he wrote a book titled, Glory Reborn: A history of Wabash College and its athletics teams, 1977-1982. His features have appeared in more than a dozen media outlets and is now researching and writing about disinformation. He lives in the Cleveland area with his wife, Kathy.
Ryan Mills '00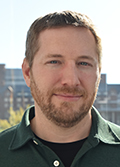 Ryan Mills is an associate professor at the University of Michigan, where he runs a biomedical research laboratory funded by the National Institute of Health studying human genetic variation and disease. Mr. Mills graduated from Wabash with a degree in biology, from Georgia Tech with a PhD in bioinformatics, and completed his postdoctoral studies at Emory University and Harvard Medical School. At Wabash, he was a member of Phi Kappa Psi, the wrestling team, Sons of Wabash, and Alpha Phi Omega. Mr. Mills is passionate about getting students interested in science and participates in several local and state-wide initiatives to promote the next generation of scientists. He lives in Ann Arbor, Michigan, with his wife, Kristin, and two daughters, Kyra and Roselyn.
Benjamin Robinson '01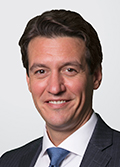 Benjamin Robinson is an attorney at Holland & Knight LLP, in Orlando, Florida, focusing on high-stakes construction litigation, complex business litigation, white collar crime, and healthcare litigation. Prior to joining Holland & Knight, he was a litigation attorney for a Florida-based law firm, and for a global law firm in its Washington, D.C., office. Mr. Robinson also served in government as deputy rules officer and counsel to the Judicial Conference of the U.S. Committee on Rules of Practice and Procedure. While living in Washington, he was active in the National Capitol Association of Wabash Men. His past volunteer efforts for the College include recruiting, advising externs, and returning to campus to support the NAWM. As a student, Mr. Robinson helped orchestrate the second-best Wabash heist of 1998 – the successful disappearance of every piece of cutlery from the Sigma Chi fraternity house. He and his wife, Debra, have two aspiring Little Giants, Isaac and Nathaniel, and a daughter, Penelope. They live in Winter Park, Florida.
Tony Unfried '03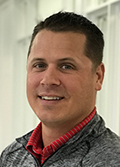 Tony Unfried has nearly a decade of experience building software-enabled businesses, including five successful exits. He is currently the CEO of Archon Tech Strategies and recently started Ceemless Innovation, LLC. A master of balance, he has honed the craft of custom development while paving the best and leanest path for creating revenue-generating companies, or an application that can make a powerful impact by solving existing problems. Originally from Evansville, Mr. Unfried obtained his Bachelor's in psychology, followed by his Master's degree in Public Affairs from Indiana University. He is currently on the NAWM and serves as chair of the Affinity and Engagement Committee. He is also the past president of the Lambda Chi Alpha Home Association, past president of the IAWM, and past chairman of the LCA Alumni Advisory Board. Mr. Unfried is also a member of Wabash's Center for Innovation, Business, and Entrepreneurship and co-founder of the Denver Hutt Legacy Foundation and Platform 24 Co-Working space in Carmel, Indiana. He also serves on the board of The O'Connor House. He has been married to his wife, Angela, since 2005 and has two boys. When not chasing his sons, Anthony (Class 2035) and Andrew (Class of 2037), or following Wabash athletics, he can be found on the golf course or following Notre Dame football and the Colts.