In many ways, Wabash's 2020 Day of Giving was unlike any prior iteration; the day's events were all held online due to the closing of campus, there were seven challenges that could unlock significant sums of money instead of one end goal, and a theme of #WabashTogether asked friends of the College to reflect on what ties us together even when we are separated.
In one significant way, however, the College's seventh Day of Giving was like each of the past six: alumni and friends of the College surpassed every goal and broke records on the way to a stunning display of the strength and connections of the Wabash family.
In a 24-hour fundraising effort to support current students, the Wabash community broke the following records: total amount (over $1.2 million), total donations (over 6,000), and the average amount raised per student ($1,406—which is approx. $400 more per student than universities which are nationally-ranked leaders in single-day fundraising).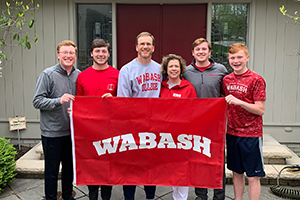 The Day of Giving—which took place on May 12—averaged 251 gifts per hour, met all seven challenges to unlock $490,000 in pledged gifts, and set the #WabashTogether hashtag trending nationally.
President Gregory Hess was quick to express his thanks to the College's supporters, whose gifts also count as contributions to the Giant Steps campaign. "Lora and I remain truly in awe of the generosity and spirit of the Wabash nation. Students, faculty, staff, parents, alumni and friends pitch in each year to make sure that a Wabash education remains exceptional and affordable.
"You can't fake gratitude—that's what Wabash runs on."
The video recap can be found here.