Lamore Boudoin is from a tiny town 30 minutes outside of New Orleans. There are no traffic lights, no fast food restaurants, one gas station, and one Dollar General. Edgard, Louisiana, is 95 percent African-American, and he rarely interacted with people outside of his own race. Then he came to Crawfordsville.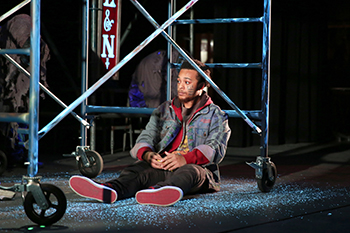 Q: It sounds like coming to Wabash was probably quite the culture shock for you. How did you adjust?
A: (laughs) It was a pretty big jump for me, but I think any jump from where I grew up would be big. I think the one thing that really helped me was the Wabash Liberal Arts Immersion Program, which allowed me to come to Wabash for a month in the summer. I got the chance to be on campus and in the community, to be around students of mixed backgrounds, mixed upbringings, and make friends before I started.
However, once the semester actually began, I was in the minority in my classes. At first, I saw that as discouraging. There were times I felt like everyone expected me to talk, expected me to be that one voice. I knew I couldn't speak for everyone in my race, so there was the pressure of, 'Should I or should I not say something?' I'm not usually a big talker, but there's a privilege of wanting to be heard and wanting to be understood. It took some time to figure out. I had to challenge myself, build up my courage, but I think the experience was a really good thing for me.
Q: How else do you think Wabash has changed you as a person?
A: I've made so many friends and have incredible support. I think I've learned to love and cherish the things that are in front of me. I'm living in the moment more, trying to be open to new things, and talk to new people. I've grown in the sense of being more comfortable with myself and make a statement, whatever that may be.
Q: What made you want to major in math?
When I first came to Wabash, I really wanted to go into engineering. But then I took physics and realized physics was not for me. Even though I had friends who helped me, science was just not something I was good at. Nor was it, I realized, something I wanted to do. Instead I decided to stick with math because I always loved math. Doing times tables throughout elementary and middle school was always fun for me. I loved racing to finish and competing with my class. At the same time though, Wabash allowed me to take a lot of diverse classes like, theater, rhetoric, and classics.
Q: Out of all the experiences you've had at Wabash, what has been your favorite?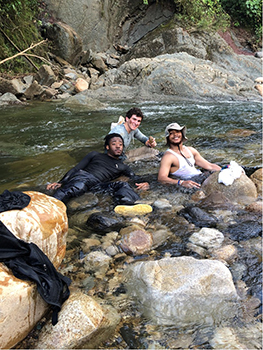 A: I would say the immersion trip to Ecuador with Professor Rogers. We were there for about a month last summer, and for the first two weeks, we attended classes at Pontificia Universidad Católica del Ecuador. We took Spanish classes and learned about the history and culture of Ecuador. The last two weeks, we explored the Amazon and visited places our class had read about. We toured different places where indigenous tribes live. We got to live in actual cabins in the woods, try some exotic fruits, swim in a river, and go inside of a bat cave—which was very muddy!
The entire experience was such a great thing to be involved in. It was a small group of guys who went, and we grew really close. We also played a lot of games, I got to learn about Indiana culture with a game of Euchre. I love it. I'm pretty good at it now!
Q: Now you're finishing up your senior year. How do you feel?
A: It's a little bittersweet. I've made a home here at Wabash, and it's been a great four years. It's weird to see it coming to the end. Now I have to kind of start all over again, find a different home. But it's kind of sweet knowing Wabash will always be with me. I'll always cherish it, be involved and be a part of the community in any way possible, and I know I'll always be able to come back with open arms.