Inside Chadwick Court, all eyes are on Tyler Watson.
The sophomore point guard is used to this situation during games, but a very different crowd surrounds him today.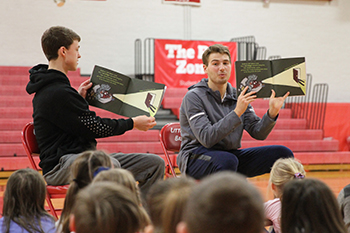 Instead of a basketball, he picks up a book—and he begins to read to the kindergarteners and first graders in front of him.
"Sometimes, it's only when you're brave enough to face what you're afraid of…" He pauses to show them the pictures. "…that you find out there was nothing to be scared of after all."
Every month since September, the Wabash College basketball team and the classes of Amber Rohr and Amy Hensley at Hose Elementary School have been going back and forth to each other's schools reading books and playing games, while also establishing student-mentor relationships.
The partnership is due to a grant the two teachers received from the Montgomery County Educational Foundation. The money was used to purchase books the students receive each time they meet with the basketball team as well as learning games, which are used as centers when the team visits the elementary school.
"Both of our classes love spending time with the players and the coaches," first-grade teacher Amber Rohr said. "At the beginning, our students were so shocked at how tall they were! That first day, Coach (Kyle) Brumett had the team dressed in their warmups, which really impressed our kids."
"I feel like I enjoy hanging out with them almost more than they enjoy hanging out with me," Watson said. "As Wabash basketball players, we are given so many opportunities and put in a lot of situations where we can have a positive impact. If I can give them an experience that makes them like going to school or enjoy coming to Wabash, I've done my job."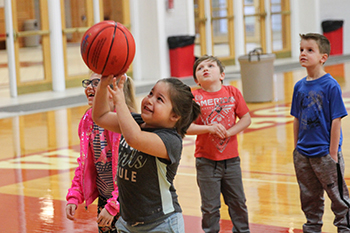 When Wabash hosts, the Little Giants lead the students through different stations of basketball skills before sitting down to read with them. The first books the players read were basketball-related; now they read books about facing fears, kindness, and hard work.
Each meeting helps the kindergarten and first-grade students build their home libraries, grow their love of reading, and hopefully see themselves as potential college or vocational students through the eyes of current college students.
"I love this experience for our team for so many reasons," Brumett said. "This gives our guys a chance to step away from classes and basketball and see that sharing their time and talents with others is a gift—a gift more important than a grade or winning a game. I hope it's a small part of what helps them become outstanding fathers someday."
Rohr said she and Hensley plan to apply for the grant again this spring in hopes of continuing the partnership next school year.
"This team has bought in to this service project 100 percent," Rohr said. "The players show up and show interest in the kids, all while being themselves. We celebrate their successes and hope they enjoy the small glimpse into our world."