Ali Hakim, a Wabash College sophomore, has earned a Benjamin A. Gilman International Scholarship to intern abroad during the summer in 2020.
Hakim, a native of Michigan City, Indiana, will travel to Cape Town, South Africa, to begin his internship in June. Fourteen Wabash students now have earned a Gilman Scholarship since 2016.
A financial economics major with a minor in philosophy, Hakim will serve an internship with Lula Loop, a South African start-up firm that uses technology to ease traffic congestion by connecting commuters to ride-sharing shuttles. He is the first Wabash student to earn a Gilman Scholarship with an internship as the focus.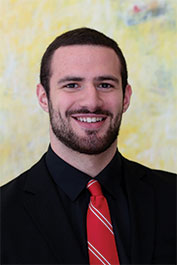 "I discovered the Gilman while searching for possibilities to make going abroad affordable," said Hakim. "Outside of learning what it is like to work in a very different place than Indiana, one of my main goals for going abroad was finding a way to continue my hobbies and share them with others in a new place. I love CrossFit and wrote about how a community-based gym would allow me to learn more about how people interact and live their day-to-day lives in Cape Town."
Run by the Institute of International Education, the purpose of the Gilman International Scholarship program is to encourage participation in study abroad programs for under-represented students, particularly those who are studying in under-represented areas of the world and/or under-represented languages. This will be Hakim's first experience abroad.
The IIE seeks to support a cohort of American students studying abroad which reflects the true diversity of the nation. Scholarship recipients have the opportunity to gain a better understanding of other cultures, countries, languages, and economies -- making them better prepared to assume leadership roles within government and the private sector.
"I am thrilled that Ali has been named a Gilman Scholar," said Susan Albrecht, Wabash College Fellowship Advisor. "He approached me very early about applying for this internship opportunity in Cape Town. His coursework made completing a traditional semester abroad very difficult, so he investigated summer internship opportunities instead. He is excited about the chance to engage in intercultural exchange with local citizens through hobbies as well as in his internship setting."
Over the last seven years, 49 Wabash men have earned international fellowships. The list includes a Rhodes Scholar, 22 Fulbright recipients, 14 Gilman Scholarship recipients, six USTA fellowship recipients, three TAPIF English Teaching Assistantships (France), two North American Language and Culture Assistantships in Spain, and one JET recipient (Japan).