Wabash a Top Producer of Fulbright U.S. Students
by Richard Paige • February 19, 2019

Share:
Wabash College is among an elite group of institutions included on the list of U.S. colleges and universities that produced the most 2018-19 Fulbright U.S. Students.
Five Wabash students received Fulbright English Teaching Assistant awards for 2018-19: Joey Dierdorf '18 to Germany, Marcus Hoekstra '18 to Spain, Michael Lumpkin '18 to Mexico, Immanuel Mitchell-Sodipe '18 to Paraguay, and Aren Peterson '16 to Germany. That number places Wabash among the 40 top Fulbright-producing baccalaureate institutions nationally.
"I ask applicants to commit to a series of meetings and a lengthy process of writing and revision," said Susan Albrecht, Wabash College Fellowship Advisor. "With such a willingness to stretch themselves, our students often make an outstanding match with the mission of Fulbright for increasing cross-cultural understanding and engagement. I am exceptionally proud of the efforts of each of our applicants."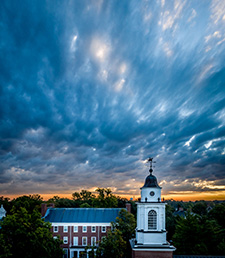 The Fulbright U.S. Student Program is the largest U.S. exchange program, offering opportunities for students and young professionals to undertake international graduate study, advanced research, university teaching, and primary and secondary school teaching worldwide. The program awards approximately 1,900 grants annually and operates in more than 140 countries worldwide.
Each year the U.S. Department of State's Bureau of Educational and Cultural Affairs announces the top producing institutions for the Fulbright Program, the U.S. government's flagship international educational exchange program. The Chronicle of Higher Education publishes the lists annually.
Wabash enjoyed a high success rate relating to this group of Fulbright recipients. In the fall of 2017, 14 students completed applications for a Fulbright award to complete research or serve as an English Teaching Assistant abroad. Of those 14, half were named semifinalists. Of those, six were declared Fulbright recipients (one declined to accept another award) and a seventh was named an alternate.
"This fall, the number of gentlemen applying for Fulbright jumped to 19 – truly a testament to Wabash men's spirit of reaching for the very best," said Albrecht. "We have made significant strides in developing a fellowships culture, which can be seen both in the increase in numbers of students trying for awards and in the willingness of winners to offer their help and support to those applicants."
Over the last six years, 38 Wabash men have earned international fellowships. The list includes a Rhodes Scholar, 17 Fulbright recipients, 13 Gilman Scholarship recipients, five USTA fellowship recipients, a TAPIF English Teaching Assistant (France), and a North American Language and Culture Assistantship in Spain.