Lenkey '19 Wins Baldwin Oratorical Contest
by Ryan Horner • February 14, 2019

Share:
At the beginning of February, Joey Lenkey '19 was helping curate the speakers for TEDx at Wabash College—and two weeks later it showed during his winning speech at this year's Baldwin Oratorical Contest.
"I wanted it to be like a TED talk, where the audience leaves the event thinking in a whole new way, as opposed to leaving with a simple list of things to do," Lenkey says. According to the event judges, he did just that.
The contest's four finalists were asked to respond to the theme "Wabash's Future" by advocating concrete actions to improve the College as we look forward to its 200th anniversary in 2032.
Their ideas didn't fall on deaf ears. The judges for the contest this year were three administrators with power to change the College's path: Kendra Cooks, Chief Financial Officer and Treasurer; Scott Feller, Dean of the College; and Marc Welch, Associate Dean of Students.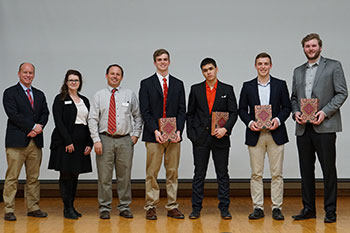 "It says something special about this place that key administrators take the time to hear from student contestants about how we move forward as a College," says Sara Drury, who chairs the Rhetoric Department and helped coordinate the event. "We're very thankful to the judges for giving their time and energy to judge the contest."
Lenkey's outside-the-box thinking impressed the judges. His speech, "How Could Data Improve Our Diminishing Social Life?" tied his experiences tracking patient outcomes at an internship with IU Health to the potential for tracking data on the College's social life.
Ian Gale '22 and Benjamin Manahan '21 both advocated for new approaches to mental health on campus and came in second and third place, respectively. In fourth place was Dalton Vachon '19, who explored options for a new student union on campus.
"We appreciated Joey's approach," Feller said during the presentation of awards. "He asked us to consider measuring what we don't always think of as measurable in order to find ways we can make Wabash better."
Lenkey is a Global Health Initiative fellow and a member of Phi Gamma Delta who is looking at medical or graduate school next year. In the meantime, he says, he'll stay busy. "I've still got homework to do tonight!"
In its 145th year, the Wabash College Baldwin Oratorical Contest began in 1873 as a gift from the late D.P. Baldwin, a longtime trustee of the College, who endowed an award to be given each year to the Wabash students who "compose and pronounce the best orations."
Just as they did in 1873, the top three finalists received a cash award and the complete works of William Shakespeare.