Wabash College celebrates its 14th annual WABASH Day, a weekend of community service on October 6-7, at locations throughout Indiana and nationwide.
Held annually since 2007, WABASH Day (Wabash Alumni Benefiting And Serving Humanity) celebrates the National Association of Wabash Men's efforts to strengthen connections to the College through opportunities to give back to local communities.
"WABA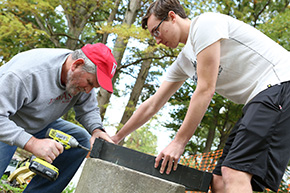 SH Day is quintessential Wabash," said Steve Hoffman, Director of Alumni and Parent Relations. "At Wabash, our mission statement isn't just words; we take it seriously. So, to have Wabash families around the country working together on one day to 'live humanely,' that is living our mission."
There are 11 projects scheduled in and around Crawfordsville on Oct. 6, where students, faculty, and staff will combine efforts. Additional statewide gatherings are planned for Carmel, Danville, Ft. Wayne, Indianapolis (multiple events), and South Bend.
National projects are slated for Austin, TX; Chicago; Dallas; Denver; Detroit, Kansas City, MO; Nashville, TN; St. Louis, and Washington, DC. For a complete schedule of events, please check the listing at www.wabash.edu/wabashday. Normally, between 250 and 300 volunteers participate across all cities/projects on the day.
All alumni or friends of the college are welcome to participate in any of the pre-planned projects or to orga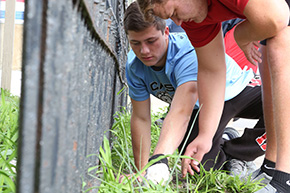 nize one in their local communities. If you'd like more information, contact the Wabash Alumni and Parent Relations Office at alumni@wabash.edu or 765-361-6369.
To share in or follow the progress of this year's WABASH Day, please use the hashtag #WabashDay2018.