Wabash College mourns the passing of Evan Hansen, a Wabash College senior, who died over the weekend.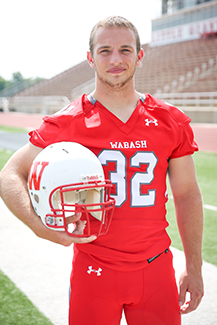 "This is tremendously sad news and all of us at Wabash are grieving Evan and praying for him and his family," said Wabash College President Gregory D. Hess. "He was a very well-liked young man and a real leader at Wabash. To say that he will be missed is an understatement."
The son of Charles and Mary Hansen of Carmel, Indiana, Evan graduated from Guerin Catholic High School.
At Wabash, he was a Spanish major and spent last summer as an intern at the Mansfield-Kaseman Health Clinic in Rockville, MD, where he served as a translator. He intended to pursue a career in nursing following his graduation. He was a member of the Wabash Sphinx Club and Beta Theta Pi. He was also a four-year starting linebacker on the Wabash football team and was twice named to the all-conference team.
"All of us in the Wabash community must find strength and support in one another at this difficult time," said President Hess.
Support services for members of the College's community are available through the Dean of Students Office, Wabash Counseling Center, and the Newman Center.
A funeral will be held at 1:00 p.m. on Friday, September 14 at Our Lady of Mount Carmel
Catholic Church, which is located at 14598 Oak Ridge Road in Carmel, Indiana.