Six Wabash College students have accepted postgraduate fellowships to serve as English Teaching Assistants (ETA) in Austria, Germany, Spain, Paraguay, and Mexico. In all, 34 Wabash men have earned international fellowships in the last five years.
Joey Dierdorf '18, Taylor King '18 and Aren Peterson '16 each received a Fulbright ETA award to Germany as well as a United States Teaching Assistantship (USTA) award to Austria. Dierdorf and Peterson elected to accept the Fulbright, while King selected the USTA award. Marcus Hoekstra '18 won a Fulbright ETA award to Spain, Immanuel Mitchell-Sodipe '18 claimed a Fulbright ETA to Paraguay, and Michael Lumpkin '18 earned one to teach in Mexico.
The Fulbright and USTA programs are similar in their goals to place recipients in a classroom abroad to provide assistance to teachers of English to non-native English speakers, while serving as a U.S. cultural ambassador. It is the job of these native English speakers as teaching assistants to make learning a foreign language a lively cross-cultural encounter for their students. The age and academic level of classroom students varies by country, ranging from kindergarten to university.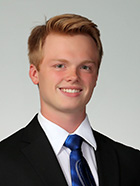 A double major in studio art and political science with a minor in German, Dierdorf was a member of the Glee Club for four years, an award-winning editorial cartoonist for The Bachelor, and active with the German Club, Sons of Wabash, Alpha Phi Omega, and Phi Kappa Psi fraternity. He took immersion trips to Tübingen, Germany, and London, England, and studied abroad in Vienna, Austria.
"I have learned that education and relationship building are foundational to changing a cultural mindset and exploring new and innovative solutions," said Dierdorf, a native of Brazil, Indiana. "Through education we can plant the seeds of change through our conversations, gaining exposure to ideas that challenge our own."
Dierdorf's lifelong interest in Scouting has fostered a commitment for environmental stewardship. His interest and enthusiasm in a myriad of subjects should help when relating to students.
"Joey has used his skills to address an area of deep concern for him: protecting our environment," said Scott Himsel, Associate Professor of Political Science. "Given that he focuses on this very difficult subject, what is most striking is Joey's remarkably positive attitude and energy, which never fails to improve his performance and to lift up those around him."
Hoekstra, a religion major with minors in Spanish and music, served as President of Model U.N., taught English as a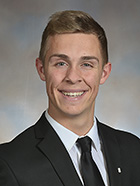 second language to local youth while abroad in Spain, was involved in student government as a senator, served as a mentor for College Mentors for Kids, performed in the College's Jazz Band, and is a member of Beta Theta Pi fraternity. Previously, he's taken immersion trips to Israel and Palestine and studied abroad in Valencia, Spain, in the Spring semester of 2017. He will be based in Madrid during his Fulbright.
"My life has revolved around the importance of human connection through culture," said Hoekstra, a native of Holland, Michigan. "My excitement for a Fulbright in Spain is founded on the opportunity to continue this work in an expanded role. Living and teaching there offers valuable experience as a representative of American culture, ultimately engraving the unique signature of Spain into my future career."
As an aspiring diplomat hoping to work in conflict resolution, Hoekstra's willingness to connect should serve him well, once again, overseas.
"Marcus is bright, curious, and friendly," said Robert Royalty, Professor of History and Religion. "He is always a well performing student with extensive experience overseas. When we talked about his semester abroad in Spain, I knew he would be a perfect fit for this program."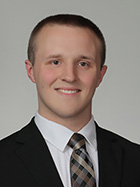 King , a double major in religion and German, worked as an Admissions Office tour guide, interned at the Wabash Center for Teaching and Learning in Theology and Religion, sang in the Glee Club, participated in College Mentors for Kids and Alpha Phi Omega, and is a member of Phi Gamma Delta fraternity. He's been abroad to Tübingen, Germany, to Israel and Palestine, and spent the Spring 2017 semester in Vienna, Austria, and Marburg, Germany.
King will serve as an ETA at the Bundesgymnasium in Klosterneuburg, Austria, and plans to live in Vienna and take master's courses at the University of Vienna while there.
"This fellowship in Austria will allow me to give to others the love of learning a new culture and language," said King, a native of Cedar Falls, Iowa." It also will allow me to gain valuable teaching experience, something that will undoubtedly benefit in the future as either a minister or professor. It will also allow me to return to a country which, through my experiences, I have grown to love."
In order to accept the USTA fellowship, King has delayed entrance to the Princeton Theological Seminary until the Fall of 2019, where he will pursue an M.Div. degree.
"Taylor has a bright future ahead of him, but his present is pretty good, too," said Derek Nelson, Professor of Religion. "He was a double major with plenty of postgraduate choices, and I think he made the right choice. He'll make a fine theologian and pastor, whose heart for service I really admire, as well as his commitment to building up those around him."
Peterson, a double major in German and studio art with a minor in biology, was active in the Biology Club, and the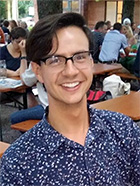 Society for the Furthering of the Liberal Arts. With the assistance of a Dill Grant, he traveled to Luxembourg to do epilepsy research in the summer of 2014, and went on the German immersion trip to Tübingen, as well, staying after in Freiburg to further study German via the Rudolf Family grant.
"A taste for adventure drives me to seek out teaching opportunities in exotic locales," said Peterson, a native of Indianapolis. "My classroom depends on students, not structure. The most impactful lessons I have taught are not packed with facts, but are rich with first-hand experience and information. I hope to bring an immersive language environment to German students and provide them with a framework for confident use of new phrases and ideas."
Following graduation in 2016, Peterson served with AmeriCorps in Monterey, California, and worked with the Cahaba Environmental Center in Montevallo, Alabama. Peterson has delayed coursework towards dental school to participate, and will be based in Bayern, Germany, while part of the Fulbright program.
"Aren is a self-starter with a knack for language and a passion for cultural immersion," said Brian Tucker, Associate Professor of German. "When I traveled with him on a German immersion trip, Aren was the student who did his best to turn the two-week trip into a study abroad experience and get a sense of what it is like to live on his own in another country. He chose to spend his time with his host family rather than with his fellow students; he borrowed a bike and used his free time to explore the city on his own. He will be an excellent addition to Austria's Teaching Assistantship Program."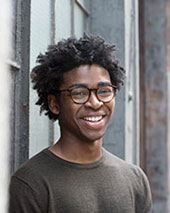 A philosophy major with a minor in political science, Mitchell-Sodipe was a member of the Malcolm X Institute of Black Studies, where he served on the senior and membership committees, and was affiliated with the Organization for Workers Liberation (formerly the College Democratic Socialists). He is a Gilman Scholarship award winner who studied abroad in Costa Rica, Guatemala, and Nicaragua during the Fall 2016 semester.
"I want to undertake an ETA in Paraguay specifically because I want the opportunity to engage with students -- in the classroom and outside -- to share ideas, culture, insights, and human experience," said Mitchell-Sodipe, a native of Chicago. "Teaching, whether in an institutional setting or a popular setting, if done right, allows both parties, teacher and student, to engage in a dialectic of collective learning. Good teaching means the blurring of the line between student and teacher. It means blurring the line between classroom and life. It means becoming co-learners."
Immanuel-Sodipe will serve as an ETA at the Universidad Nacional de Asunción in San Lorenzo, Paraguay, working out of the Thomas Edison Corner which is affiliated with the Instiutio Politecnica.
"Immanuel is the kind of student who has something of his own worth saying, which is really what every professor wants from her students," said Adriel Trott, Associate Professor of Philosophy. "He developed his own mind from his voracious reading habits and from his experiences of the world, from the Black Youth Project 100 in his hometown of Chicago to his study abroad in Guatemala and elsewhere in Central America to his organizing on campus with the Malcolm X Institute reading group. He asks everyone around him, faculty and students, to be mindful of how our assumptions about the world shape the way we think and live in the world. He wants ideas to change the world, not just describe it. I expect he will both well-serve and be well-served by those he meets and works with in Paraguay."
Lumpkin, a political science major with minors in Spanish and economics, was a three-year member of the Wabash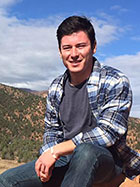 Democracy and Public Discourse initiative (WDPD), including the last two as a Senior Fellow, and served as President of the Wabash Dance Marathon, and is a member of Beta Theta Pi fraternity. Previously, he studied abroad in Valencia, Spain, in the Spring semester of 2017. While in Mexico, he will teach at the university level in Tenango de Doria.
"Receiving the Fulbright is such an honor because it bestows upon me the responsibility of educating youth and acting as an ambassador for the United States," said Lumpkin, a native of Muncie, Indiana. "I am beyond excited to gain an understanding of Mexican culture and cultivate lasting relationships with members of a new community."
In order to accept the Fulbright fellowship, Lumpkin has delayed entrance to the University of Georgia until the Fall of 2019, where he will pursue a law degree.
"Michael is enthusiastic and insightful when approaching community-based living and learning," said Sara A. Mehltretter Drury, Associate Professor of Rhetoric and the WDPD Director. "During his time with WDPD, Michael consistently took on challenging public projects, demonstrating his passion for serving communities and promoting productive conversation. At the same time, Michael has an easy-going demeanor that helps him connect with those around him. I am confident that he will be an excellent Fulbright ETA and that his future will include many opportunities to work with communities to create positive impacts and change."
The Fulbright U.S. Student Program is the largest U.S. exchange program, offering opportunities for students and young professionals to undertake international graduate study, advanced research, university teaching, and primary and secondary scho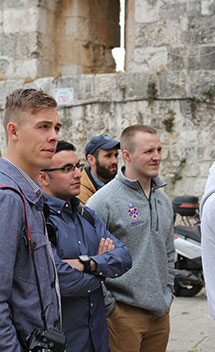 ol teaching worldwide. The program awards approximately 1,900 grants annually and operates in more than 140 countries worldwide.
Under the direction of the Austrian Federal Ministry of Education, the USTA goal is to bring talented and enthusiastic young people from abroad into the classrooms of secondary schools in communities throughout Austria. Since 1962, more than 2,900 college graduates from the United States have been placed in Austrian secondary schools as teaching assistants.
"I tell our students that the Fulbright and various English Teaching fellowships abroad are terrific opportunities and that they should think hard about what they want, where they want to go, and what an opportunity like this could do for their future," said Susan Albrecht, Wabash College Fellowship Advisor. "The awareness has grown as they see their peers selected for these fellowships."
Over the last five years, 34 Wabash men have earned international fellowships. The list includes a Rhodes Scholar, 16 Fulbright recipients, 10 Gilman Scholarship recipients, five USTA fellowship recipients, a TAPIF English Teaching Assistant (France), and a Cultural Ambassadors North American Language and Culture Assistantship in Spain. In 2017-18 alone, 14 Fulbright applications led to seven semifinalists, while four USTA applications led to three awards. Max Earp-Thomas '17 is also a Fulbright ETA alternate for Taiwan.