Michele Pittard, a 15-year teaching veteran at Wabash College, received the McLain-McTurnan-Arnold Excellence in Teaching Award, announced at the College's Awards Chapel, the annual honors convocation, in April.
Pittard, an Associate Professor of Education Studies, is also the director of the secondary licensure program at the liberal arts college in Crawfordsville.
According to Dean of the College Scott E. Feller, "Michele's impact on the campus is not limited to the classroom or office hours. She supports our students in all their endeavors, support that continues after they graduate as they go on to impact the lives of their own students. It is fair to say she touches the lives of every Wabash student through her tireless commitment to our all-college courses. She is a faculty leader who strengthens the College in important ways."
The Excellence in Teaching Award honors the memories of Reid H. McLain '27, Clair McTurnan '10, and Kent Arnold '29,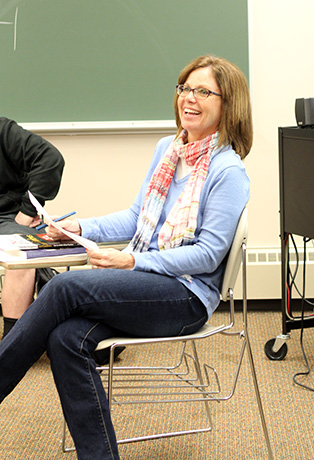 and has been given annually to a member of the faculty who has distinguished him or herself by innovative and engaging teaching since 1965.
"A good teacher is always learning and always seeking to improve his or her practice," Pittard said. "Receiving this award will continue to motivate me in that way, as if walking into a classroom full of students isn't enough motivation. I consider myself kind of a blue-collar academic because I consider teaching the most important part of my work. So it was nice to receive acknowledgement for the work I do every day, especially as a teacher-educator, it was really special."
Pittard joined the Wabash faculty in 2002 after completing a bachelor's degree in English from Butler University, and an M.S. and Ph.D. in Curriculum and Instruction with an emphasis in Adolescent Literacy from Purdue University. Prior to joining the Wabash faculty, Pittard was a high school English teacher for four years.
In addition to working with student teachers every semester, Dr. Pittard has taught nearly every class in the Education Department. Outside of her department, she regularly teaches freshman tutorials and Enduring Questions, where she currently serves as faculty-chair of the freshman courses committee.
Active with and committed to the scholarship of teaching and learning, Dr. Pittard's research projects include: examining the relationship between liberal arts education and teacher preparation and classroom-based research for pre-service teachers.
"At a college that values teaching above all, Michele is a teacher of teachers," Feller said in presenting the prestigious award. "At a college where everyone – faculty, staff, and coaches – see themselves as resources, our colleague's students routinely describe her as their most important mentor."
She has been a regular presenter at the International Society for the Scholarship of Teaching and Learning, and in collaboration with her former colleague in education, Dr. Deborah Butler, she co-edited and contributed a chapter to a monograph entitled, "Liberal arts education and teacher education: A lasting relationship," and co-wrote an article published in MoutainRise, an online journal for the Scholarship of Teaching and Learning, entitled, "Creating and supporting mixed-level inquiry communities."
She helped design and has lead the department's immersion trip to Chicago for students in the education studies minor to experience education in an urban setting, a trip that has become an integral part of education students' experience. The Education Department decided to move the urban immersion experience to Memphis, and Pittard is currently planning the first trip there for Spring, 2018.
"Our students learn that even if our backgrounds as teachers are different from our backgrounds of the students we have in class, we can build a relationship with them," she said. "We can acknowledge those differences, we can celebrate those differences, and take advantage of those differences to learn about each other. As teachers we set the tone, we begin this process of building relationships with our students."
Outside the classroom, Pittard remains in pursuit of her goals, ranging from writing a young adult novel to improving her golf game.
A Wabash On My Mind Podcast
To hear more from Pittard on her teaching philosophies, experiences in the classroom, even the progress of her young adult novel, please click on the red arrow in the link below to listen to her featured on a Wabash On My Mind podcast.