Stephen S. Bowen wrapped up his tenure as Chair of the Wabash College Board of Trustees as the fifth longest-serving chair in the College's 185-year history. As a tribute, Wabash President Gregory D. Hess announced that an endowed professorship will forever bear Bowen's name.
"We congratulate and thank Steve for his leadership of our Board, as well as his generosity to and love of this College with the establishment of the Stephen S. Bowen Professorship in the Liberal Arts," President Hess said. "It is a fitting tribute to Steve, who has lived out the Wabash mission of thinking critically, acting responsibly, leading effectively, and living humanely."
The professorship is made possible by a gift from the Pritzker Foundation, and was presented by Bowen's long-time friend and law partner, Michael Pucker, on behalf of the foundation.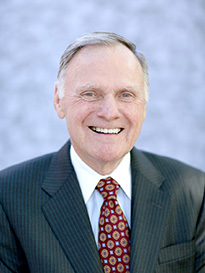 "Over the 20 years that Steve advised our family on tax and other strategic matters, we all came to understand and appreciate the very special place that Wabash occupies in Steve's heart, mind and soul," said Pucker. "The College has clearly had a profound impact on Steve, and is an integral part of his who he is."
Bowen was a Phi Beta Kappa graduate of Wabash in 1968, and after service in the United States Marine Corps, he attended the University of Chicago Law School. He led the global tax practice at the international law firm of Latham and Watkins, and also served the firm on its Executive Committee and as Managing Partner of the Chicago office.
Bowen was elected to the Wabash Board of Trustees in 1996 and became Chair in 2007. He provided careful guidance to the College during the volatile times of the Great Recession and its aftermath. During Bowen's tenure as Chair, 23 new Trustees were elected to the Board, and Wabash constructed its new Residential Life District, renovated Martindale Hall, and built new athletics facilities for soccer and lacrosse, baseball, and wrestling.
Bowen also focused keenly on building relationships, and in particular worked hard to strengthen the bonds between Trustees and faculty. In addition to driving the establishment of the William C. Placher Fund for Faculty Support, Bowen literally bridged the gap between Trustees and faculty when, upon retirement from his law practice, he began teaching a fall semester course on theological ethics.
"I've never been so honored or so overwhelmed," Bowen said. "I realized very early in my professional life that I owed Wabash a great deal and that sense of obligation has never left me. Michael Pucker is a special person, and I am very grateful to the Pritzker Foundation for its gift to the College."
Dr. Derek Nelson, a 1999 graduate of Wabash and Professor of Religion, will be the first member of the faculty to hold the Stephen S. Bowen Professorship in the Liberal Arts. "I couldn't be more pleased that Derek will be the first holder of the professorship," Bowen said.
Nelson was a religion major at Wabash, and earned his Ph.D. from Yale University. He is the author of Resilient Reformer: The Life and Thought of Martin Luther and Sin: A Guide for the Perplexed and is the co-author or editor of another six books.
"It is such an honor to be named to the Bowen Professor in the Liberal Arts at Wabash," Dr. Nelson said. "The phrase itself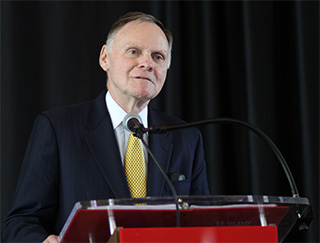 contains several terms that are favorites of mine: Wabash, liberal arts, professor, and Steve Bowen. It was a privilege to get to see Steve in action as a classroom teacher, and I cherish our frequent conversations about all manner of topics. He exemplifies the best of what Wabash can do in a young man's life and even more so what service back to Wabash and one's community should look like. I'm grateful to Steve for being the kind of colleague and role model, which prompted Michael and the Pritzker Foundation to honor him in such a significant way."
"We know how important it is to Steve to 'give back' to the college as is evidenced by his commitment and devotion to sustaining and growing Wabash for generations to come," Pucker added. "Our family felt that establishing a professorship in Steve's name presented a unique opportunity to acknowledge our gratitude to, and enormous admiration for Steve, at a place and in a community that Steve loves so much. It is with humility and in the spirit of great friendship that our family foundation makes this gift to honor Steve Bowen."
While Bowen's tenure as Chair of the Board of Trustees comes to an end on June 30, he will continue to serve as a Trustee of the College.