The value of a Wabash College education has never been higher.
Just yesterday, a Time magazine article trumpeted the payoff of studying the humanities, and Wabash ranked 11th nationally in the return on investment for graduates with a B.A. in humanities.
Over a 20-year period following graduation, Wabash graduates who receive financial aid earn nearly $600,000 more than those without a degree, according to data provided by payscale.com. That return hovers above $500,000 after factoring in the cost of attendance.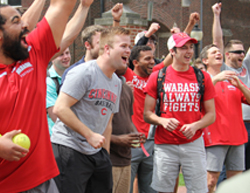 That figure places Wabash in the company of elite institutions nationwide, including five Ivy League schools, Duke, and the University of California, Berkeley.
"We were delighted to be on the Time/Money ranking of the top-15 liberal arts colleges and universities whose graduates earn the most," said Wabash College President Gregory D. Hess, "which places us in good company with many of the nation's finest universities."

Wabash's ROI performance outdistances humanities majors in general, earning an average of $19,100 more per year over that 20-year period for graduates of 245 colleges in the PayScale study.