Director Michael Abbott had wanted to produce the Tony Award-winning play The History Boys at Wabash College, but it wasn't until this year that he felt the time was right.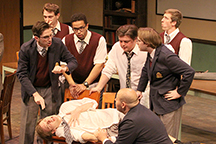 "When I first read it, I liked it, but didn't love it, and I wasn't sure it was possible for us to stage at Wabash," Abbott said. "Then I read it again in light of the current political climate in our country, and it seemed possible. This play asks important questions like, How do we make history? How do we think about history, teach history? It suddenly feels as though history matters."
A cast of veteran actors and a handful of theater newcomers will perform The History Boys in the Ball Theater Wednesday through Saturday nights. Curtain is at 8 p.m. each night, and free tickets can be reserved through the box office.
The History Boys explores complicated issues of education, history, the power of literature, and, most of all, human nature.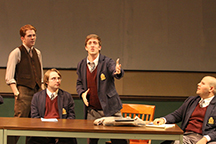 The play gets its name from the eight unruly, precocious, irreverent, and funny students studying for entrance exams in history for Oxford and Cambridge universities while attending the all-boys Cutlers' School. The boarding school in northern England has never sent graduates to the country's finest schools, but this year — with eight star students — the Headmaster, played by Nathan Hubert, is determined to get his school's name in the lights.
The eight "history boys" are very smart, indeed — and know their teachers better than their teachers know themselves. As one teacher says, "The boys know everything!"
"All of the actors in this play are smart young men, so they can tell this story very well, very convincingly," Abbott says. "This is a story that is familiar at Wabash; it's a story about effective teaching and opening the minds of young men — and how risky and often dangerous that can be."
Adam Crowe, a professional actor in Indianapolis and 1985 graduate of Wabash, plays Douglas Hector, an eccentric, charismatic English teacher who cares little about the entrance exams, wants his boys to learn about the finer things — literature and poetry.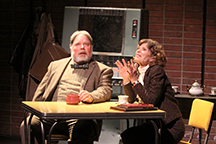 Abbott was at first reluctant to reach out to Crowe, who was his Wabash roommate when both were undergraduates. "We were in a production meeting, and our designer, Andrea Bear, said, 'There's this actor in Indianapolis named Adam Crowe, and I think he would be perfect for Hector,'" Abbott recalls. "So, I called Adam to explore the idea, only to find out that he had posted to the Wabash Facebook page that he would love to play the role. And he's perfect; perfect age, perfect persona. Adam embraces the fullness of his character, flaws and all, and he deeply understands Hector in a way that few others could."
The Headmaster's plan to land his students at Oxbridge rests with a bright, young history teacher named Irwin, played by Zachary Anderson, who teaches to the test. Another history teacher, Dorothy Lintott (played by Jamie Watson), focuses on facts — with good humor, too.
"The role of Irwin has been a tremendous challenge for Zach, who has had to adapt his method to take on the complexities of this role, and I really love what he's doing with his character" Abbott says. "As for Jamie, well, she steals every scene she is in. Back when Adam and I were in school together here at Wabash, Jamie was in almost every show with us. It's like having the band all back together again — we picked up right where we left off."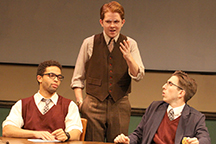 The history boys themselves are a tight-knit ensemble that includes veterans Jared Cottingham, who plays Scripps, Quinn Cavin, who plays Dakin, and Nathan Muha, who plays David Posner. All three are stretched as performers because of the depth of their parts.
"Jared is this high-energy person, and he has played some high-energy parts during his time at Wabash, but in this role, he's basically an observer taking careful notes, and narrating as the plot unfolds," Abbott said.
"As a person, Quinn is so nice and kind and respectful, but as Dakin, he's a predator. He's dangerous; a complete free agent who does whatever the hell he wants to do, and that's tricky for Quinn. And Nathan has a very difficult role as Posner, who is a very sad young man who yearns for more, but basically gets nowhere."
The other boys include Rudge, played by Noah Levi; Timms, played by Austin Yeomans; Lockwood, played by Geno James; Akthar, played by Stephan Jones; and Crowther, played by Louis Sinns. All but Yeomans are first-time actors, but Abbott says all are perfect in their roles.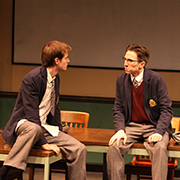 "When I direct the last production of the school year, I always put out a note encouraging juniors and seniors who haven't tried theater to give it a shot," Abbott said. "And it's great when they respond; we end up with some outstanding performances from really good students willing to stick their necks out.
"Noah plays this really rough, tough kid from northern England; a real blue-collar kid, and all of the boys love him, and he's just great in the part. Stephan will be on a Fulbright Fellowship this summer, and he's had to learn not just about theater, but about being Muslim."
The History Boys at Wabash College
Directed by Michael Abbott; Scenic Design by Bridgette Dreher; Costume Design by Andrea Bear; Lighting Design by Aaron Bowersox; Stage Manager Brandon Johnson; Assistant Director Daniel McCarthy.
With Adam O. Crowe as Hector, Zachary Anderson as Irwin, Nathan Hubert as Headmaster, Jamie Watson as Mrs. Lintott, Quinn Cavin as Dakin, Nathan Muha as Posner, Jared Cottingham as Scripps, Noah Levi as Rudge, Austin Yeomans as Timms, Geno James as Lockwood, Stephan Jones as Akthar, Louis Sinn as Crowther, and Ian Little as TV Director.